Pistachiomento Cheese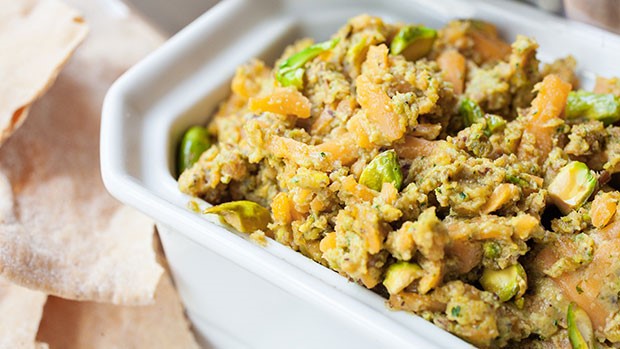 Ingredients
8 ounces Shelled Pistachio nuts
8 ounces Cream cheese
2 tablespoons Extra virgin olive oil
4 tablespoons Mayonnaise
2 tablespoons Fresh lime juice
2 Serrano chile: stemmed, seeded & minced
½ cup Cilantro sprigs
¼ teaspoons Salt
Pinch Black pepper
8 ounces Sharp Cheddar: grated
Garnish
¼ cup Pistachio nuts: crushed or finely chopped
1 Cilantro sprig
Instructions
In a food processor, combine the pistachios, cream cheese, olive oil, mayonnaise, lime juice, mince Serrano chile, cilantro and salt and pepper. Process the ingredients until smooth.
Transfer the mixture from the food processor to a mixing bowl. Stir in the grated Cheddar cheese until fully incorporated.
Transfer the Pistachiomento cheese to a glass crock or serving dish. Dust the surface with crushed pistachio nuts and garnish with a cilantro sprig. Serve with crackers.