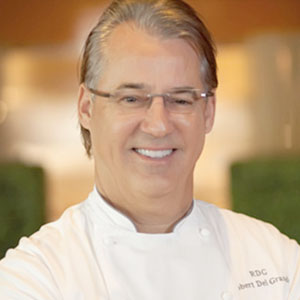 Robert Del Grande, one of America's celebrated chefs, is the executive chef and partner of the renowned Café Annie, in Houston, Texas. As a 1992 James Beard Foundation Award winner, for Best Chef: Southwest, he has figured prominently in the historical revision of American cooking, changing the culinary landscape with his use of the tastes and flavors of the Southwest.
Robert and his wife Mimi, together with sister and brother-in-law, Candice and Lonnie Schiller, are also partners in several other ventures including: Cafe Express, a sporty yet sophisticated cafe offering "Good Food Fast" to counter the fast-food culture; and Tony Milagro, the newest concept that offers Robert's vision of Mexican cuisine in Texas.
With a bachelor's degree in chemistry and biology from the University of San Francisco, Robert also holds a PhD in biochemistry from the University of California, Riverside.