Pistachiomolé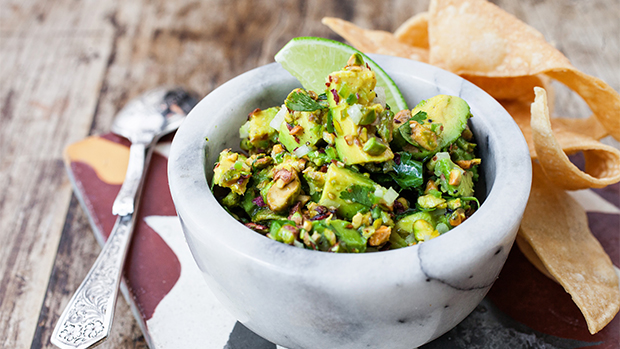 Yield
1 Pound
Ingredients
2 cups Pistachio nuts
2 Ripe avocados
¼ White onion: finely diced
1 Serrano chile: stemmed, seeded & minced
½ cup Cilantro sprigs
2 tablespoons Extra virgin olive oil
1 tablespoon Fresh lime juice
½ teaspoon Coarse salt
¼ teaspoon Black pepper
Garnishes
¼ cup Pistachio nuts: crushed or finely chopped
Cilantro sprigs
Lime wedges
Tortilla chips
Instructions
Lightly toast the Pistachio nuts. Finely chop or process in a food processor.
Seed and peel the avocado. Dice the avocado. 
Combine all of the ingredients in a mixing bowl. With a spoon, stir the mixture while lightly mashing the avocado. Do not over process – the mixture should have a slightly coarse texture.
Transfer the Pistachiomolé to a serving dish. Sprinkle the surface with the crushed Pistachios. Garnish with the cilantro sprigs and lime wedges. Serve with tortilla chips.