ARUGULA, "PICKLED" STRAWBERRIES, CANDIED PISTACHIOS AND CRUMBLED BLUE CHEESE SALAD
By Michelle Bernstein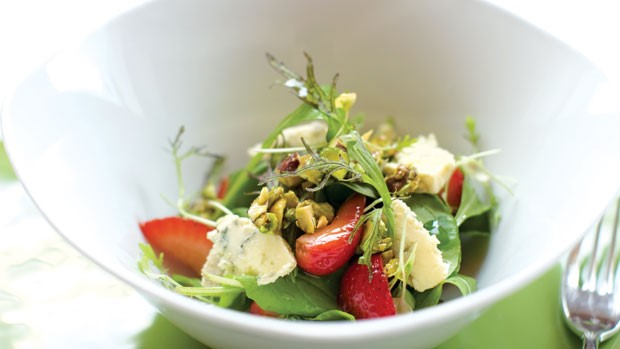 Yield: 4 servings
Ingredients
2 tablespoons Granulated sugar
2 tablespoons Water
1 cup Pistachios, shelled
1 teaspoon Sea salt
1 tablespoon Brown sugar
¼ cup Balsamic vinegar
1 Bay leaf
2 cups Strawberries, stemmed, cut in quarters
4 cups Arugula
¼ cup Crumbled bleu cheese
½ cup Olive oil
1 tablespoon Balsamic vinegar (to serve)
Salt and pepper
Instructions
Preheat oven to 350°F.  Heat sugar and water together. Toss pistachios into mixture.
Spread onto a cookie sheet. Bake for 5-10 minutes.  Remove and season immediately with sea salt.  Allow to cool. Remove from pan, chop into small pieces.  Heat brown sugar and ¼ cup of balsamic vinegar with bay leaf.  Place strawberries into a bowl over another bowl filled with ice.  Pour hot vinegar mixture over the strawberries and allow to cool.
Remove the strawberries from vinegar.
To Serve
Combine arugula, cheese and strawberries with olive oil, 1 tablespoon balsamic vinegar and salt and pepper to taste. Toss to coat. Place on 4 plates, top with candied pistachios.
Nutritional Facts (per Serving):
Calories 520, Total Fat 44g, Saturated Fat 7g, Monounsaturated Fat 28g, Cholesterol 5mg, Sodium 760mg, Potassium 560mg, Carbohydrate 27g, Dietary Fiber 5g, Protein 9g