Flautas with Creamy Pistachio Filling, Applewood Bacon & Chipotle Buttermilk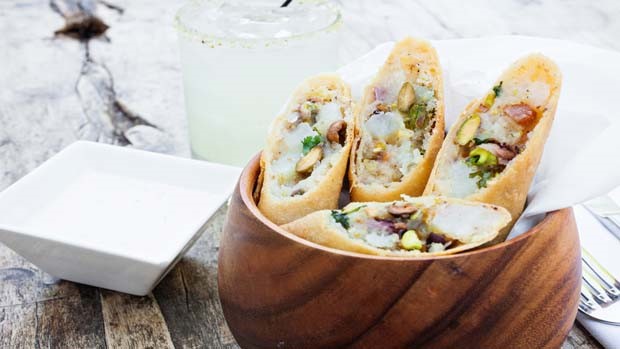 Ingredients
3 tablespoons Corn Oil, plus extra for frying
2 Garlic Cloves, minced
2 Jalapenos, stemmed, seeded and diced, or to taste
1 White Onion, minced
2 cups Mashed Potato mixture(see recipe below)
4 pieces Thick Sliced Applewood Bacon, cooked until crisp, rough chopped
½ cup Roasted Pistachio, crush to lightly break
12 - 5 inch Corn Tortillas
For the Chipotle Buttermilk Dressing:
1 cup Mayo
1 cup Sour cream
¾ cup Buttermilk
1½ tablespoons Rice wine vinegar
1 Garlic clove, smash into paste
2 tablespoons Chives, chopped
2 tablespoons Parsley, chopped
Ancho chile powder, to taste
Cayenne, to taste
Salt and Pepper, to taste
Instructions
Combine all ingredients.
Heat 3 tablespoons of corn oil in a skillet over medium high heat. Add the onion and cook until softened, about 5 minutes. Add the garlic and jalapenos and cook until fragrant, about 2-3 minutes. Season with salt and pepper and remove from heat. Reserve.
Prepare the Mashed Potato Mixture
Boil 1 pound waxy red or Yukon potatoes, peeled and cut into even chunks. Put in a pot with salted water to cover and bring to a boil. Adjust the heat so the potatoes simmer steadily. Cook until tender about 10 minutes or so. Drain and place in bowl. Add 2 Tbs of butter, ½ cup warm whole milk and ½ cup shredded Monterrey Jack Cheese and gently fold until butter and cheese are melted. Season with salt and pepper. Set aside.
Making the Flautas
In a large mixing bowl combine reserved sauteed jalapenos and onions, mashed potato mixture, crushed pistachios and cooked bacon.
In a heavy skillet add at least 2 inches oil. Heat to 350 degrees (the fat will be shimmering, and a piece of taco will sizzle when added). Spread the flauta mixture over one half of each tortilla. Roll the tortilla into even tight cylindrical shape and secure with a toothpick. Continue until all the tortillas are filled. When the oil reached 350 degrees, gently slide the flauta into the oil and cook, turning occasionally, until crisp and golden, about 5 minutes.
Do not overcrowd; work in batches if necessary. Drain on paper towels, remove toothpicks. Serve with Chipotle Buttermilk Dressing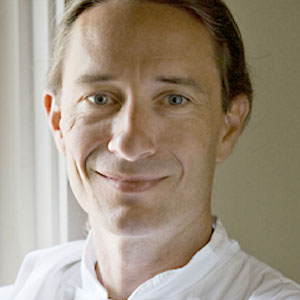 A published author on Southwestern cuisine, Ben regularly appeared on In the Kitchen with Robert Del Grande (FOX network).