Grilled Chicken Tacos with Mango Pistachio Slaw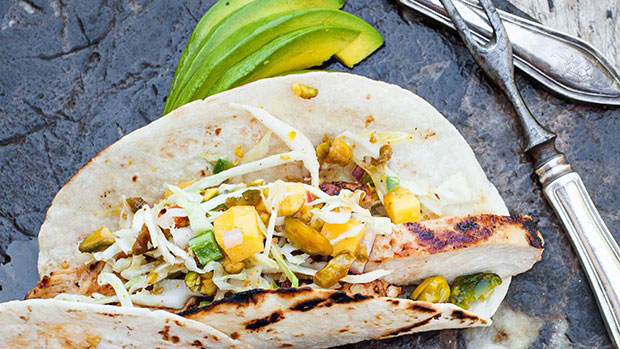 Ingredients
For the Chicken
6 Chicken Breast, boneless and skinless
3 tablespoons BBQ spice
Salt and Pepper, to taste
1/4 pound Melted butter
For the Mango Pistachio Slaw
1 1/2 cups Unseasoned Rice Wine Vinegar
1 cup Water
4 Serrano Chiles, cut into rings
3 tablespoons Sugar
1/2 teaspoon Salt
8 ounces Cabbage, tough outer leaves and stem removed, diced (about 2 packed cups)
1 1/2 cups Mango, peel, remove seed and finely diced
3 tablespoons Red Bell Pepper, remove seeds, ribs and finely diced
2 tablespoons Fresh Cilantro Leaves, Chopped
1/4 cup Whole Roasted Pistachios
Instructions
For the Chicken
Preheat the grill or broiler until very hot. Season 6 boneless skinless chicken breasts, brush or mop with melted butter or oil and season with BBQ spice, salt, and pepper. Grill the chicken breasts on the grill or in the broiler, 2 to 3 minutes. Then turn and cook the other side. Keep turning the chicken every minute or 2 to avoid blackening or sticking; baste with butter on each turn. Total cooking time is 10 to 12 minutes for small breasts and 18 to 20 minutes for larger breasts. Transfer onto cutting board and allow to cool. Slice chicken across the grain into diagonal strips. Serve hot with warm flour tortillas and Mango Pistachio Slaw (see recipe below).
For the Mango Pistachio Slaw
Put the vinegar, water, serranos, sugar and salt in a large sauce-pan and bring to a boil. Reduce the liquid by half, about 10 minutes. Add the cabbage and cook for 1 minute, stirring occasionally. Strain, reserving the liquid, and cool the cabbage in a bowl placed over a larger bowl of ice water. When cool, add 1 tablespoon of the reserved cooking liquid, the mango, bell pepper, cilantro and pistachios. Thoroughly combine.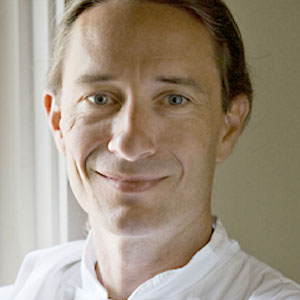 A published author on Southwestern cuisine, Ben regularly appeared on In the Kitchen with Robert Del Grande (FOX network).