Grilled Skirt Steak with Smoked Pistachio Chipotle Salsa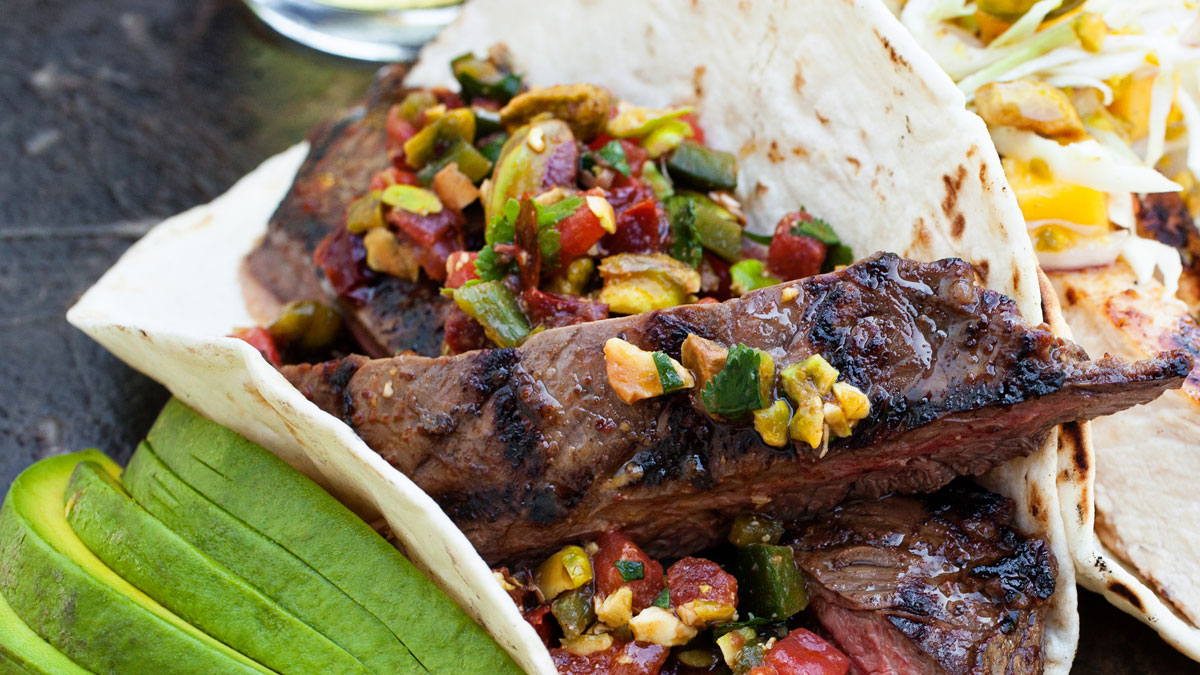 Yield
6 servings
Ingredients
3 pounds Skirt Steak, trimmed of excess fat and cut into 6 serving pieces
1/4 pound Butter, melted
2 tablespoons BBQ spice or rub
Salt and Pepper, to taste
For the Skirt Steak Marinade:
1 Mango
1 Small red onion
3 Garlic Cloves
1 Red Jalapeno, remove stem
1 Green Jalapeno, remove stem
2 Tomato, remove stem and seeds
1 Rosemary Sprig, remove stem
1 1/2 cup Grape Seed or Vegetable oil
For the Smoky Pistachio Chipotle Salsa:
1/2 cup Canned Chipotle Chiles in Adobo, remove seeds and mince
8 Ripe Roma Tomatoes, remove stems and seeds
6 Garlic Cloves, peeled
4 tablespoons Cilantro, minced
1 quart Water
2 tablespoons Salt
1/2 teaspoon Freshly Ground Black Pepper
1/2 cup Roasted Pistachios, crushed to slightly break
Instructions
Generously brush the meat all over with marinade (see recipe below) and roll each piece up in a cylinder. Arrange the rolled steaks in a shallow pan and pour on the remaining marinade. Cover and marinate in the refrigerator 24 hours.
About 30 minutes before cooking, remove the meat from the refrigerator. Heat the grill or broiler to very hot. Brush steaks with melted butter and season with BBQ spice, salt and pepper. Cook steaks just until seared on both sides, 3 to 4 minutes per side for medium rare. Transfer to a cutting board and allow to rest for about one minute. Slice across the grain into diagonal strips. Serve hot with warm flour tortillas and Smoked Pistachio Salsa (see recipe below).
For the Smoked Pistachio Salsa:
Combine all of the ingredients except the pistachios in a medium sauce-pan. Bring to a boil, reduce to a simmer and cook, uncovered, about 20 minutes. The liquid should be reduced by one-third and the tomato skins falling off. Set aside to cool. Pour mixture into a blender. Puree until smooth. Add pistachios. Serve chilled or at room temperature.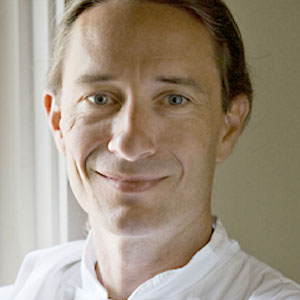 A published author on Southwestern cuisine, Ben regularly appeared on In the Kitchen with Robert Del Grande (FOX network).