Lowcountry Shrimp Tostada with Mango Pistachio Salsa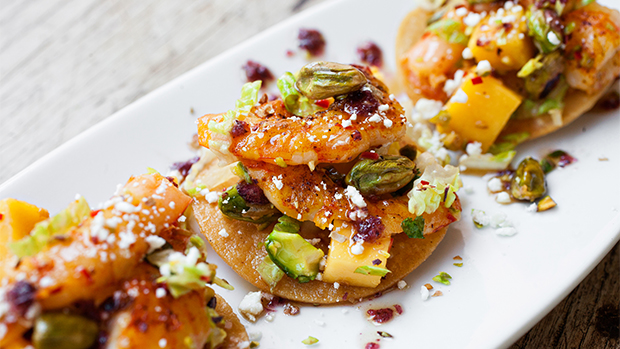 Ingredients
2 pounds Fresh Shrimp, remove shells and veins
2 tablespoons BBQ spice
½ stick Butter, melted
Mango Pistachio Salsa
1 cup Mango, peel, remove seed and small to medium dice
¼ cup Whole Roasted Pistachios, lightly crushed
1 each Serrano Chile, minced
3 tablespoons Red Bell Pepper, remove seeds, ribs and finely diced
2 tablespoons Basil Leaves, Chopped (I used purple basil)
1 tablespoon Olive Oil
1 each Baby Romaine, remove and discard outer leaves, chop hearts
½ each Lime, juice
Salt, to taste
2 tablespoons Cotija, grated
Instructions
Lay shrimp flat on cutting board and line up backs to bellies and run a skewer thru the center, there should be 8-12 shrimp on each skewer. Season with BBQ spice and baste with melted butter. Cook over hot coals until done. Re-baste with melted butter.
For the Mango Pistachio Salsa
Combine all ingredients and toss together. Place on top of fried round corn tortilla chips. Garnish with Cotija.