Fregola Sarda Salad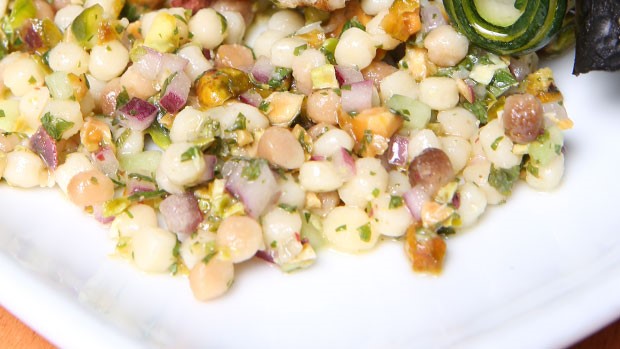 Ingredients
Kosher salt
¼ cup fregola sarda
Extra-virgin olive oil
½ cup pistachios, coarsely chopped
½ cup finely diced red onion
¼ cup finely diced peeled cucumber
2 tablespoons thinly sliced fresh mint leaves
2 tablespoons thinly sliced fresh Italian parsley leaves
1 teaspoon grated garlic
1 lemon, halved
½ cup lemon vinaigrette (recipe to follow) plus more to taste
Lemon Vinaigrette
¼ cup minced shallots
¼ cup fresh lemon juice
1 tablespoon champagne vinegar
1 teaspoon kosher salt, plus more to taste
½ cup extra- virgin olive oil
½ teaspoon freshly ground black pepper, plus more to taste
Instructions
To prepare the Fregola
Fill a medium saucepan with water, bring it to a boil over high heat, and salt it to taste like the ocean, adding approximately 1 tablespoon of salt to each quart of water. Place a colander in the sink or have a wire strainer handy to lift the pasta out of the water. Add the fregola, stir to prevent it from sticking together, and cook, using the time indicated on the package as a guide, until al dente. Drain the fregola and transfer it to a large bowl. Drizzle with a small amount of olive oil, toss to coat it with the oil, and set it aside to cool to room temperature. Add the onion, cucumber, mint, parsley, garlic, and pistachios to the bowl with the fregola. Squeeze the lemon juice and drizzle the vinaigrette over the salad. Toss to thoroughly combine the ingredients and coat them with the vinaigrette. Taste for seasoning and add more salt, if desired.
To make the Lemon Vinaigrette
Combine the shallots, lemon juice, vinegar, and salt in a small bowl. Set the bowl aside for 5 to 10 minutes to marinate the shallots. Add the olive oil in a slow, steady stream, whisking constantly to combine. Stir in the pepper. Taste for seasoning and add more salt or pepper, if desired. Use the vinaigrette or transfer it to an airtight container and refrigerate it for up to three days. Bring the vinaigrette to room temperature and whisk to recombine the ingredients before using.