Market Rucola & Wild Cress Salad with Pistachio Aillade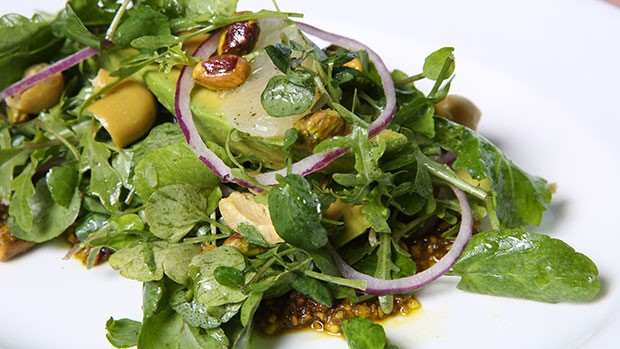 Yield
Serves 4 to 6
Ingredients
For the Salad
8 cups of lettuce mix (rucola and wild cress)
2 avocados cut into 8ths length wise
1 red onion, sliced into 1/8 inch thick rounds
2 ounces of lemon vinaigrette
20 oro blanco segments, membrane removed
1 cup whole pistachios
1 cup picholine olives
1 lemon
Salt to taste
Cracked black pepper to finish
For the Lemon Vinaigrette
¼ cup minced shallots
¼ cup fresh lemon juice
1 tablespoon champagne vinegar
1 teaspoon kosher salt, plus more to taste
½ cup extra- virgin olive oil
½ teaspoon freshly ground black pepper, plus more to taste
For the Pistachio Aillade
¼ cup of pistachios, chopped
Small pinch of maldon sea salt
2 garlic cloves, zested
Zest of 1 lemon
2 tablespoons whole pistachios, shelled
7 tablespoons pistachio oil
¼ teaspoon salt
Instructions
To make the Salad
Spread the aillade evenly across 4 to 6 plates.
In a mixing bowl, season the lettuce mix with salt and toss to combine, dress with the lemon vinaigrette. (season with more salt and lemon juice to taste) Season the avocado slices with salt and lemon juice.
On the plates, layer avocado slices, oro blanco segments, onions, pistachios, and picholine olives on the aillade. Top with the lettuce mix and continue to layer 3 times.
To make the Lemon Vinaigrette
Combine the shallots, lemon juice, vinegar, and salt in a small bowl. Set the bowl aside for 5 to 10 minutes to marinate the shallots. Add the olive oil in a slow, steady stream, whisking constantly to combine. Stir in the pepper. Taste for seasoning and add more salt or pepper, if desired. Use the vinaigrette or transfer it to an airtight container and refrigerate it for up to three days. Bring the vinaigrette to room temperature and whisk to recombine the ingredients before using.
To make the Aillade
In a mortar and pestle - combine the chopped pistachios, maldon, garlic, and lemon zest into a paste. Slowly drizzle in the pistachio oil, adding more salt to taste.