Pistachio Granola Bar
By Chef Anthony Michael Contrino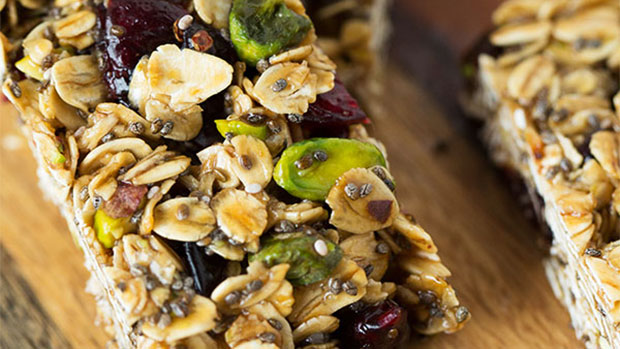 Yield
12 bars
Ingredients
2 1/2 cups Old fashioned rolled oats
1/2 cup American-grown pistachios, coarsely chopped
1/3 cup Honey
1/4 cup Unsalted butter, cut into pieces
1/4 cup packed Light brown sugar
1/2 teaspoon Vanilla extract
1/4 teaspoon Kosher salt
1/2 cup Dried cherries, coarsely chopped
1/4 cup plus 2 tablespoons Mini chocolate chips
Instructions
Combine butter, honey, brown sugar, vanilla extract and the salt in a small saucepan over medium heat.
Cook, stirring occasionally until butter melts and the sugar completely dissolves. Pour butter mixture into bowl with toasted oats and pistachios. Mix well.
Let cool about 5 minutes, then add cranberries and 1/4 cup of the mini chocolate chips. Stir to combine. The chocolate chips will most likely melt a little. This is fine, as it serves as glue to hold the bars together.
Transfer oat mixture to a lined pan, then use a rubber spatula or damp finger tips to firmly press the mixture into the pan. Press hard for about one minute, this will help the bars stay together once cooled and cut. Scatter remaining 2 tablespoons of chocolate chips over pressed granola mixture then use a rubber spatula to gently press them into the top.
Cover, then refrigerate at least 2 hours. Remove block of granola mixture from pan then peel away aluminum foil. Cut into 12 bars. Store bars in an airtight container for up to one week. For the softest bars, keep at room temperature. For slightly harder bars, store in the fridge.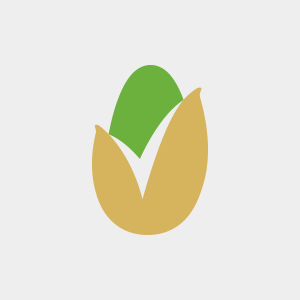 American Pistachio Growers (APG) is a non-profit trade association representing over 800 grower members in California, Arizona, and New Mexico.