Pistachio Peach Bourbon Cooler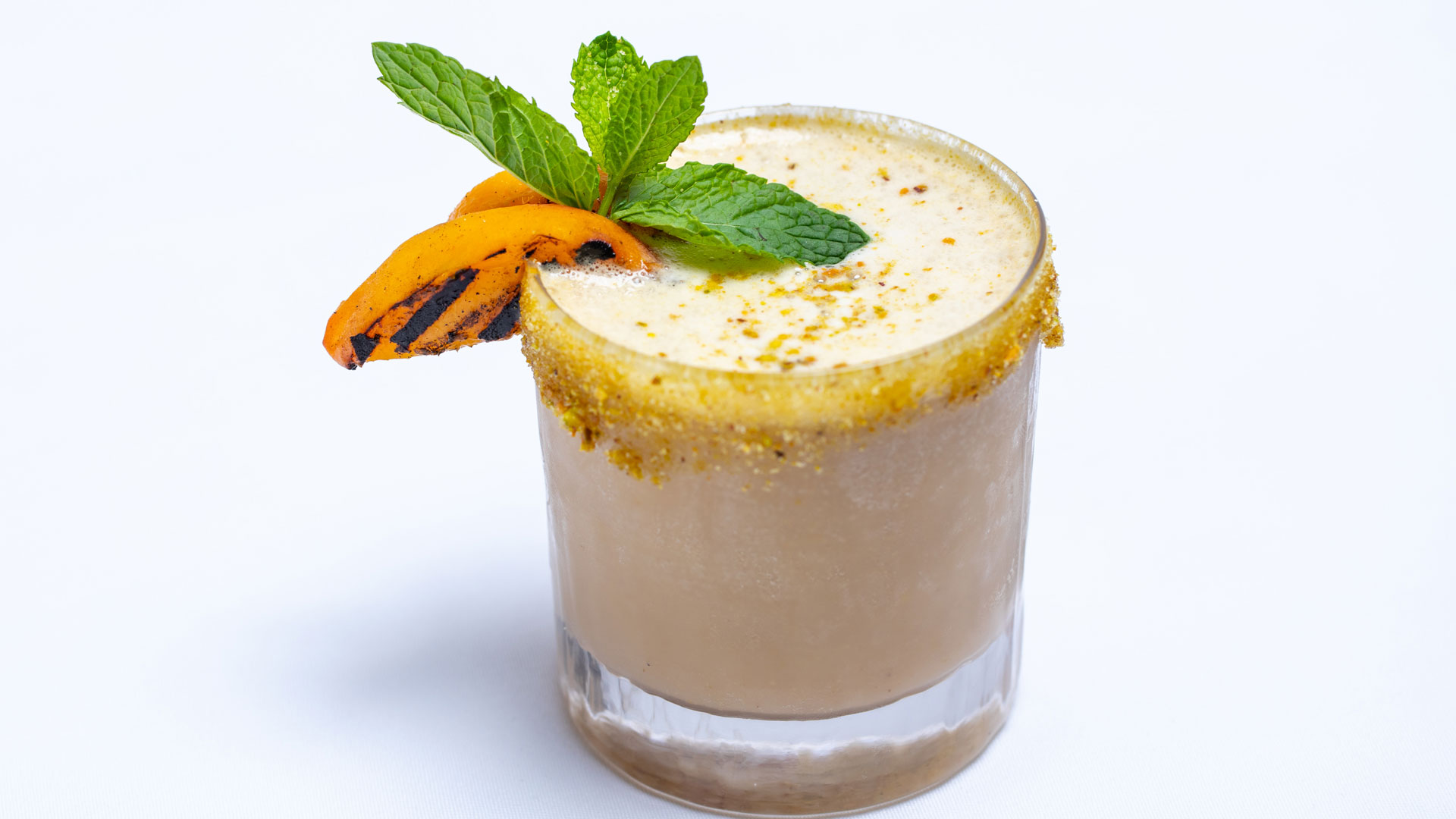 Yield
1 serving
Ingredients
Bourbon Cooler
2 ounces pistachio-infused bulleit bourbon
4 ounces peach tea
1 egg white
1 ounce pistachios, grated
Pistachio Sugar Rim
2 grilled peach wedges
1 mint sprig
2 ounces pistachio orgeat
Pistachio Orgeat
2 cups raw unsalted, shelled pistachios
1 ½ cups of sugar
1 ¼ cups water
1 ounce vodka
½ teaspoon orange flower water
Pistachio Sugar Rim
½ cup pistachios, toasted
½ cup sugar
Pistachio-Infused Bulleit Bourbon
1 cup pistachios, toasted
1 bottle bulleit bourbon
Instructions
Prep Ahead
Pistachio Orgeat
Pulse the pistachios in a food processor until finely ground. Combine the sugar and water in a pot over medium heat, stir until the sugar dissolves completely. Boil the syrup for three minutes, then add the ground pistachios. Turn the heat down to low and simmer for another three minutes, then slowly increase the heat just before it starts to boil. Remove from the heat and cover with a lid. Allow the pistachio mixture to infuse for 8 hours. Strain the mixture through a cheesecloth. Stir the vodka and orange flower water into the pistachio syrup. Store in refrigerator for up to two weeks.
Pistachio Sugar Rim
Pulse the pistachios and sugar in food processor until fine. Reserve for later use.
Pistachio-Infused Bulleit Bourbon
Roast pistachios in the oven for 10 minutes at 325 degrees Fahrenheit. Pour bourbon over the pistachios and infuse in a large mason jar with lid, for a minimum of 48 hours.
ASSEMBLY
Place Pistachio Bourbon, peach tea, egg white and orgeat in shaker with crushed ice and shake well.
Pistachio Sugar Rim
Rim a glass with pistachio sugar.
Pistachio-Infused Bulleit
Pour drink into glass, garnish with peach and mint, finish with grated pistachio over the top.