Spring Rolls with Pistachio Salsa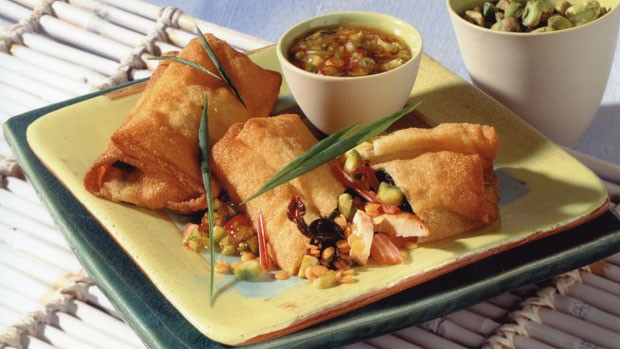 Yield
4 servings
Ingredients
2 Boned, skinned chicken breast halves, cubed
5 tablespoons Olive or vegetable oil, for frying
½ cup Uncooked red lentils
1 to ½ cups Vegetable stock
12 ounces Red chard
Salt and pepper
8 to 10 Egg roll wrappers
Pistachio Salsa:
¾ cup Whole shelled American pistachios
Ripe mango, peeled, diced
Medium tomatoes, diced
Small red chile, seeded and finely sliced
½ cup Chopped fresh cilantro
2 tablespoons Lime juice
2 tablespoons Olive oil, for salsa
Instructions
Sauté chicken in 1 tablespoon oil in skillet just until cooked, about 4 minutes.  Remove from pan.  Add lentils to drippings remaining in pan and cook 1 minute.  Add 1 cup stock, cover and simmer 5 minutes.  Clean chard, stack leaves and shred crosswise.  Add chard to lentils, cover and cook, stirring occasionally for 10 minutes or until lentils are cooked.  Add another ½ cup stock if pan gets dry.  Add cooked chicken and season with salt and pepper to taste.  Spoon filling in diagonal strip across each egg roll wrapper.  Fold in ends and roll wrapper around filling.  Heat remaining 4 tablespoons oil in skillet.  Add spring rolls and fry until crispy.  Drain on paper towels and serve with pistachio salsa.
Pistachio Salsa:  Toast pistachios in pan until fragrant.  Remove from pan and finely chop.  Mix pistachios, mango, tomatoes, chile, cilantro, lime juice and 2 tablespoons olive oil.  Add salt and pepper if desired.