Tuna Crudo with Pistachios & Pistatio Oil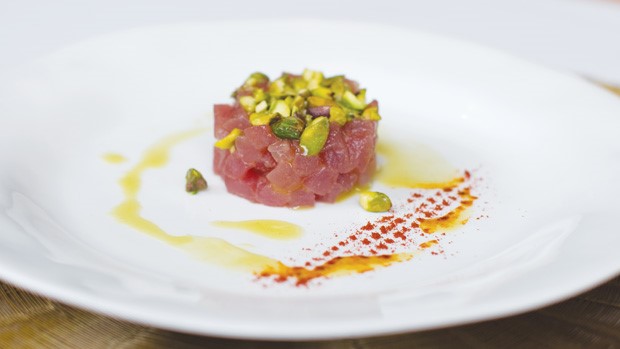 Yield
4 servings
Ingredients
6 ounces Sushi-quality tuna, finely diced
3 tablespoons Pistachio oil, plus extra for drizzling
⅛ teaspoon Hot paprika
¼ teaspoon Sea salt
¼ cup Pistachios, shelled, finely chopped
Instructions
Combine tuna with the pistachio oil, paprika and salt in a bowl.  Mix well.
Lightly oil a ring mold 2 inches tall and 2 inches wide and place in center of one of four plates.
Spoon in ¼ of the tuna mixture, then top with 1 tablespoon of the chopped pistachios.
Push down gently to pack layers.  Carefully remove ring mold, keeping layers intact.
Drizzle with additional pistachio oil and serve.
 
Nutritional Facts (Amount per Serving):
Calories 120, Total Fat 9g, Saturated Fat 1g, Monounsaturated Fat 6g, Cholesterol 10mg, Sodium 90mg, Potassium 180mg, Carbohydrate 1g, Dietary Fiber less than 1g, Protein 8g