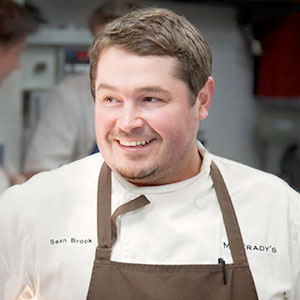 Born and raised in rural Virginia, the experience of San Brock's family growing their own food left a deep impression. Growing, cooking, preserving--these became the building blocks that began Sean's career as a chef.
After his schooling and beginnings in Charleston, Sean moved to Nashville, returned to Charleston and began a 2.5-acre farm, where he became an advocate for seed preservation.
In November 2010, Brock and the Neighborhood Dining Group (NDG), opened Husk, emphasizing Southern ingredients and the people who grow them. Inspired by the restaurant's success in Charleston, Sean and NDG opened Husk Nashville in 2013.
Significant awards and appearances, books include: (2010) "Best Chef Southeast," James Beard Award and Iron Chef competition; (2011) "Cook It Raw" event in Japan, "Best New Restaurant in America" Bon Appetit (2014); Husk Nashville one of the "12 Most Outstanding Restaurants" GQ; , and one of the "Best New Restaurants in America, Esquire;" cookbook release, Heritage (Artisan Books). (2015) Heritage, New York bestseller; James Beard Foundation Book Award, "American Cooking."