American Pistachio Pinwheels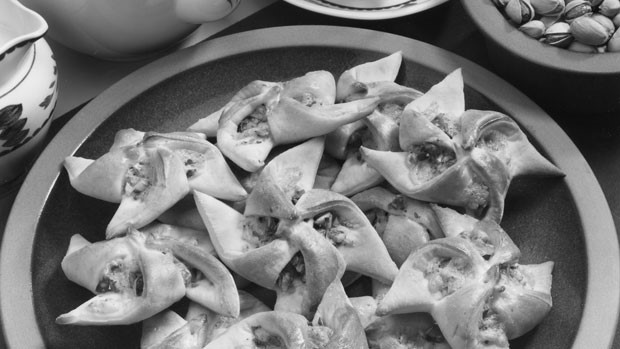 Yield: 40 pinwheels.
Ingredients
1 package (16 ounce) Hot roll mix
2 cups Grated Swiss or Cheddar cheese
⅔ cup Chopped natural American pistachios
¼ cup Chopped green onions
1 teaspoon Oregano, crumbled
1 Egg
1 tablespoon Water
Instructions
Prepare hot roll mix according to package directions. Turn onto lightly floured board; divide dough in half. Roll each half to 15 x 12 inch rectangle. Cut into 20 (3-inch) squares; place onto greased baking sheets. Combine cheese, pistachios, green onions and oregano; mix thoroughly. Place about 1 teaspoon in center of each square. Slash each square diagonally from corners to about one inch from center. Fold every other corner over filling to center of square and pinch to seal. Cover; let rise 15 minutes. Combine egg and water; mix thoroughly. Brush on rolls. Bake at 400° F. 10 to 12 minutes or until golden.