Baked Salmon with Pistachio Broth and Apple Salad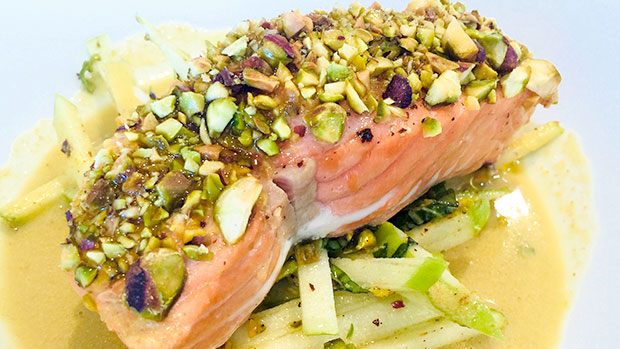 Yield
4 servings
Ingredients
Baked Salmon, Pistachio Broth
3/4 cup Pistachios, shelled and divided 
2 cups Vegetable or chicken broth
2 Garlic cloves
Small knob of ginger
½ teaspoon Curry powder
Kosher salt
Freshly ground black pepper
4 (4-ounce) Salmon filets 
1 Egg, beaten
Apple Salad 
1 Granny Smith (or other tart, green apple)
1 tablespoon Extra virgin olive oil
Fresh juice of one-half lemon 
6 large Fresh basil leaves, finely julienned
Instructions
For the Baked Salmon, Pistachio Broth
Place ½ cup pistachios and vegetable broth in a blender and blend on high speed until smooth; transfer liquid to a saucepan. Add garlic cloves, ginger and curry powder and season with salt and pepper to taste to make pistachio broth. Whisk ingredients together and bring to boil.  Lower heat and simmer for 20 minutes. Strain the pistachio mixture through a fine–mesh sieve and set aside.
Preheat oven to 350 degrees F.
Finely chop remaining ¼ cup pistachios; set aside.
Place salmon filets on a baking sheet and generously brush beaten egg on top of each filet.
Season with salt and pepper and then press 2 tablespoons of finely chopped pistachios on top of the filets. Place in the preheated oven for 8 to 10 minutes, or until salmon is cooked to medium doneness.
For the Apple Salad
Using a mandolin or sharp knife, slice the apple into thin matchsticks. Transfer apple to a small bowl and toss with extra virgin olive oil and lemon juice. Add the remaining 2 tablespoons of chopped pistachios and basil leaves.
To Plate
Divide the apple salad among 4 shallow bowls. Place a salmon filet on top and ladle the pistachio broth all around.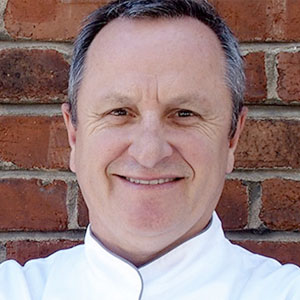 Chef / Owner, Piperade and Bocadillos, Williams-Sonoma Catering, San Francisco, California
Co-owner, Clos Pissara Winery, Catalonia, Spain
Member, Maitre Cuisinier de France
Recipient of Chevalier du Merite Agricole