Cheesecake with Pistachios
By Chef Viviana Varese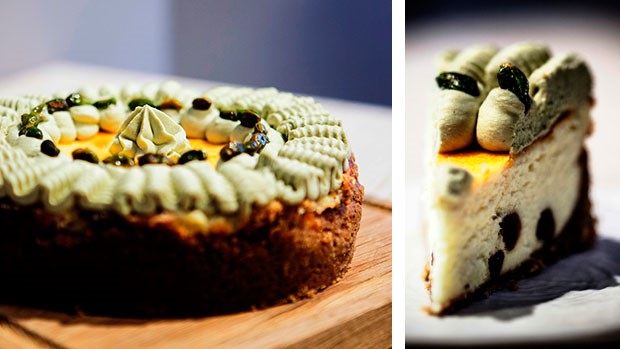 Ingredients
For the base
1 cup Sugar cookies, crumbled
3 tsp Brown sugar
2 tsp American pistachios
¼ cup Butter
For the cream
2 whole Eggs
1 Egg yolk
¼ cup Granulated white sugar
2 ½ cups Ricotta
Juice of half a lemon
½ cup fresh cream
1 ½ tbsp cornstarch 20 g
For the candied pistachios
1 1/3 cups American pistachio kernels
½ cup Water
¾ cup Granulated white sugar
For the whipped fudge with white chocolate and pistachios
¼ tsp fresh Cream
¼ cup white Corn syrup
1 ½ cups White chocolate
½ cup Pistachio paste
Instructions
For the candied pistachios
Toast the pistachios for 15 minutes at 120 degrees Fahrenheit. To prepare syrup boil water and add sugar and roasted pistachios. Then drain and place pistachios bakery paper and bake at 160 degrees Fahrenheit for 10 minutes or until they are candied.
For the fudge
Heat the cream with the corn syrup; do not bring to a boil. Remove from heat, add the chocolate and mix with a whisk. When the chocolate has melted add the pistachio paste. Let rest in the refrigerator for about 3 hours.
For the base
Whisk the sugar cookies with candied pistachios and then add the melted butter; mix until homogeneous. Place in a round cake pan with a diameter of 8 inches. Level with a spoon equally to obtain a bottom of about 1/8 inch deep. Let rest in the refrigerator for about half an hour.
For the cream
Combine and beat the eggs and egg yolk with the sugar until frothy. Add the sifted ricotta. Mix with lemon juice, starch, and fresh cream. Add ¾ of candied pistachios. Place the cream into the pan over the base and bake in oven at 160 degrees Fahrenheit for 30 minutes; reduce oven temperature to 140 degrees. Continue cooking for another 30 minutes, remove and allow to cool before serving.
Assembly and finishing
Blend the cold fudge with an electric mixer until it has a solid consistency. Place the fudge into a piping bag and decorate the cheesecake. Finish with ¼ of candied pistachios.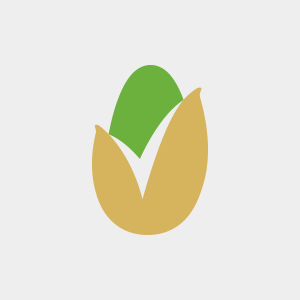 American Pistachio Growers (APG) is a non-profit trade association representing over 800 grower members in California, Arizona, and New Mexico.