Chicken Gallantine with Pistachios, Cranberry & Chanterelles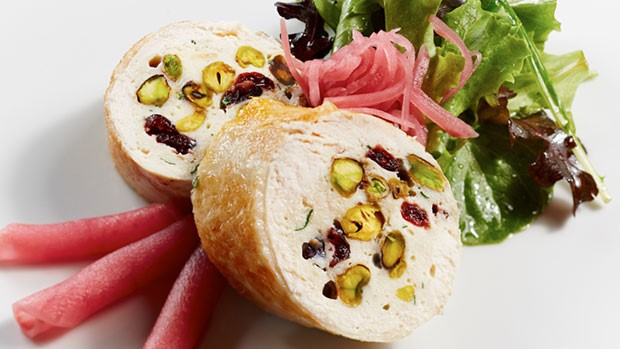 Yield
4
Ingredients
4 boneless chicken breasts, skin-on (about 6 oz each)
⅓ cup roasted, unsalted pistachio kernels
⅓ cup dried cranberries
1 tablespoons freshly snipped chives
1 tablespoon freshly chopped parsley
2 boneless, skinless chicken breasts, cut into 1-inch cubes
¼ cup heavy cream
1 egg white
1 teaspoon kosher salt
½ teaspoon freshly ground white pepper
Instructions
On a sturdy surface or cutting board, place each chicken breast on an individual sheet of plastic wrap. Cover each breast with an additional sheet of plastic and using a kitchen mallet or heavy bottomed pan, flatten each breast until approximately ¼ inch thick.
Set the flattened, wrapped breasts aside in a refrigerator.
In a medium-sized mixing bowl, combine the pistachio kernels, cranberries, chives and parsley. Set aside.
In the bowl of an electric food processor, add the cubed chicken and pulse until the meat is pureed. Slowly add the heavy cream and egg white and continue to pulse until the mixture is smooth and the ingredients are evenly incorporated. Add the salt and white pepper. Scrape the meat into the bowl with the cranberry-pistachio mixture. Combine the ingredients thoroughly and set aside.
Unwrap the pounded chicken breasts and season each generously with salt and pepper, then transfer each breast to the center of a large new section of plastic wrap. Scoop the blended meat in equal amounts onto each of the 4 flattened pieces of chicken. Carefully roll the chicken breast around the filling and fastening it tightly with the plastic wrap (essentially molding the meat into a narrow "loaf" with the plastic wrap securing it on the outside). Repeat with each of the remaining three flattened breasts and filling. Using butcher's twine, tie each end of all 4 chicken rolls very tightly together, and cut off any excess plastic wrap. Set aside.
Prepare an ice bath and set aside.
Bring 2 quarts of water to a boil in a large in a sauce pan. Gently drop each tightly wrapped chicken roll into the boiling water and let simmer for 20 minutes. Remove each roll and immediately plunge into the prepared ice bath and leave submerged until meat is completely cooled. Pat each roll dry and transfer to a sealed container and set aside in a refrigerator until ready to serve.
To serve, remove the plastic wrap and slice the gallantine into ⅓" thick rounds. Accompany with a salad of greens or pickled vegetables as desired.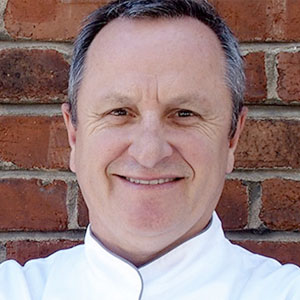 Chef / Owner, Piperade and Bocadillos, Williams-Sonoma Catering, San Francisco, California
Co-owner, Clos Pissara Winery, Catalonia, Spain
Member, Maitre Cuisinier de France
Recipient of Chevalier du Merite Agricole