Chicken Roulade in Pistachio Sauce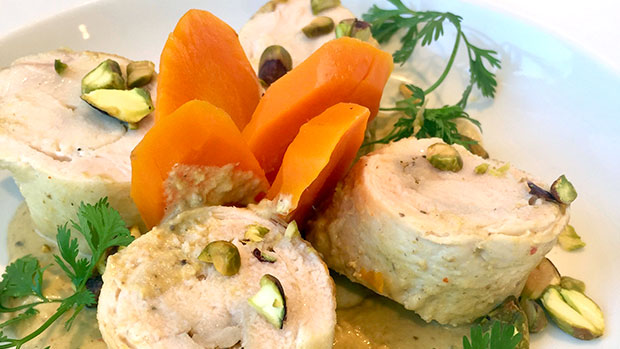 Yield
6 servings
Ingredients
4 tablespoons Canola oil, divided
1 teaspoon Freshly chopped ginger
1 large Shallot, peeled and finely minced
1 teaspoon Freshly minced garlic 
13.5 ounces Coconut milk
Freshly squeezed lemon juice (1 lemon)
1 teaspoon Brown sugar
1 teaspoon Piment d'Espelette
1-1/4 cups Shelled pistachios, divided
4 Skinless, boneless breasts of chicken (about 6–ounces each), sliced in half lengthwise
Kosher salt
Freshly ground black pepper
½ cup Chicken stock (or water)
Cilantro leaves to garnish
Instructions
Warm 2 tablespoons of the canola oil in a small saucepan over medium heat. Add the ginger, shallot and garlic and sauté for 2 to 3 minutes or until ingredients turn golden brown. Add the coconut milk, lemon juice, brown sugar, piment d'Espelette and 1 cup of the shelled pistachios. Bring liquid to a boil, reduce heat and simmer for 15 minutes; set aside. 
Generously season chicken breasts with salt and pepper to taste. Roll up all 8 halves of chicken and fix each with a toothpick. Warm remaining 2 tablespoons canola oil in a large sauté pan over medium-high heat, add the chicken rollups and brown them for 1-2 minutes on both sides.  
Transfer ingredients from simmered pistachio sauce to a blender and puree until ingredients are smooth. Pour the pistachio sauce and chicken stock into the pan with the browned chicken. Bring to a boil, reduce heat to low and simmer for about 12 to 15 minutes or until chicken is cooked through. Season with salt and pepper to taste. 
To Plate
Slice each chicken rollup in half diagonally. 
Serve as is or over rice with freshly steamed vegetables, if desired.
Garnish with cilantro and the remaining 1/4 cup chopped pistachios.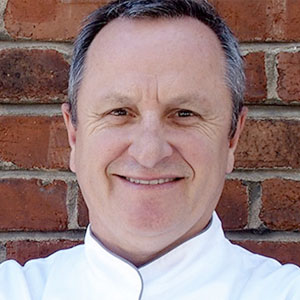 Chef / Owner, Piperade and Bocadillos, Williams-Sonoma Catering, San Francisco, California
Co-owner, Clos Pissara Winery, Catalonia, Spain
Member, Maitre Cuisinier de France
Recipient of Chevalier du Merite Agricole