Chocolate Lover´s Obsession - Molten Cake with American Pistachio Crust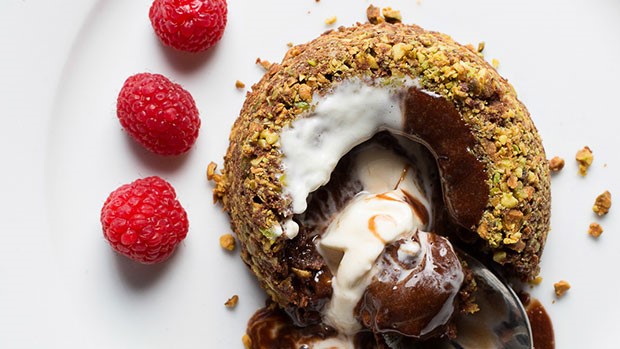 Ingredients
| | | | | |
| --- | --- | --- | --- | --- |
| Batter | g/ml | lbs./oz | Baker's % | Yield % |
| Butter, 40% fat | 400 g | 14 oz | 200.00 % | 20.78 % |
| Dark chocolate, 64% cocoa | 360 g | 12.5 oz | 180.00 % | 18.70 % |
| Sugar, powdered | 400 g | 14 oz | 200.00 % | 20.78 % |
| Egg yolk, pasteurized | 160 ml | 5.5 oz | 80.00 % | 8.31 % |
| Egg whole, pasteurized | 400 ml | 14 oz | 200.00 % | 20.78 % |
| Flour, cake | 200 g | 7 oz | 100.00 % | 10.39 % |
| Vanilla, extract | 5 g | 1 tsp | 2.50 % | 0.26 % |
| Pistachios, ground | as needed | as needed |   |   |
| Total | 1925 g | 4 lbs 3 oz | 962.50 % | 100.00 % |
Instructions
Brush 15 ceramic cups or 4 oz utility foil cups with melted butter and coat with ground pistachios nuts. Melt butter and chocolate over bain marie, set aside. Sift sugar, set aside. Sift flour, set aside. Temper eggs and egg yolks to 75°F / 24°C. Add the sugar to the chocolate/butter mixture combine with a whisk. Add the eggs slowly to the mixture combine with a whisk. Add flour at once and mix until homogenous. Add the vanilla and mix until well incorporated. Divide equally into 15 prepared ceramic cups (2.75 inches / 7 cm wide and 1.5 inches / 4 cm deep), using a 4 oz / 120 ml ladle. Refrigerate and bake to order at 375°F / 190°C for 12 minutes.
Serve with raspberry sauce, crème anglaise, heavy whipped cream, and mint leave. Tulip decoration and powdered sugar optional.
Notes
If you bake freshly prepared desserts without refrigeration, bake for + - 7 to 8 minutes at 400°F / 205°C. Use pasteurized eggs and egg yolks only.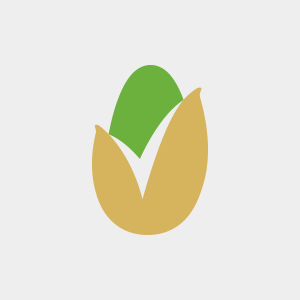 American Pistachio Growers (APG) is a non-profit trade association representing over 800 grower members in California, Arizona, and New Mexico.