Chocolate Pistachio Coffeecake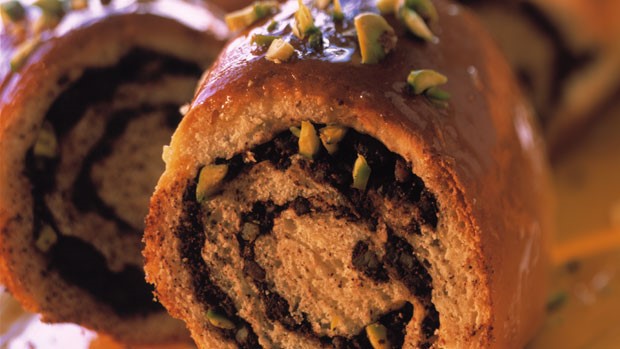 Yield
8-10 servings.
Ingredients
3 - 3 ½ cups Flour
1 package Quick-rising yeast
½ teaspoon Salt
1/3 cup Milk
¼ cup each Water, sugar and butter or margarine
1 teaspoon Vanilla
2 Eggs
2 tablespoons American pistachios, finely chopped
 
Instructions
Chocolate Pistachio Filling: Combine ¾ cup chopped, natural American pistachios, ½ cup each vanilla cookie crumbs and melted butter or margarine, 2 tablespoons each sugar and cocoa and ½ teaspoon ground cinnamon; mix well.
Glaze: Heat to boil ½ cup light corn syrup, 1/3 cup water and 1 ½ teaspoons ground cinnamon. Reduce heat and simmer until reduced to ½ cup.
Combine 1 ½ cups flour, yeast and salt. Heat milk, water, sugar and butter to 120° F.; add vanilla. With electric mixer at low speed, beat milk mixture into flour mixture; beat in eggs. Mix 3 minutes at medium speed. Gradually stir in enough remaining flour by hand to form soft dough. Knead on floured surface about 5 minutes or until smooth and elastic. Place in greased bowl; turn to grease top. Cover and let rise in warm place about 20 minutes. Punch down. On lightly floured surface, roll dough to 15 x 10 inch rectangle. Spread Chocolate Pistachio Filling to within 1 inch of one long edge. Roll jellyroll fashion, spread from long edge. Pinch to seal edges. Place on greased baking sheet; slash at 2-inch intervals to within 1 inch from center. Twist each section slightly. Cover; let rise 20 minutes. Bake at 350° F. 30 to 35 minutes or until roll makes a hollow sound when tapped on the bottom. Cool on rack. Brush with Glaze and sprinkle with finely chopped pistachios.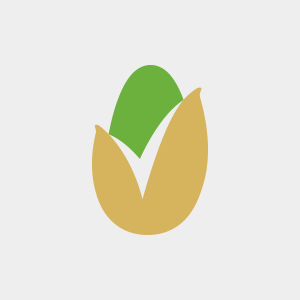 American Pistachio Growers (APG) is a non-profit trade association representing over 800 grower members in California, Arizona, and New Mexico.