Creamed Pistachio, Seared Scallops, Roasted Corn Salsa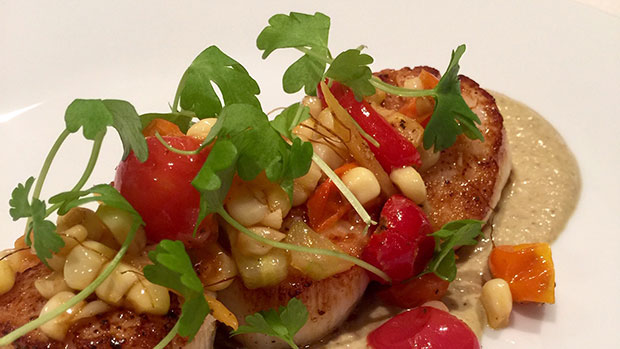 Yield
4 servings
Ingredients
7 tablespoons Olive oil, divided
¼ White onion, peeled and very finely sliced
1 Large garlic clove, finely sliced
1 Medium celery stalk , finely chopped
3/4 cup  Chicken stock
1/2 cup Pistachios, shelled
1 teaspoon Kosher salt
¼ teaspoon Freshly ground black pepper
2 ears Fresh corn, husked
1 tablespoon Thinly sliced ginger
½ cup Peeled and finely chopped cucumber
1 cup Halved cherry tomatoes
Salt and pepper
14-16 ounces Dayboat scallops (3-4 scallops per serving)
Micro-celery for garnish
Instructions
In a saucepan, warm 3 tablespoons olive oil over medium heat.  Add the onion, garlic and celery and sauté until softened, about 5 minutes.  Add the chicken stock, pistachios, salt and pepper. Bring to a boil, then reduce heat and simmer for 5 minutes. Transfer ingredients to a blender and blend on high speed until smooth and creamy; set aside.
Place an ear of corn on a cutting board, holding it near the top of the ear. Using a sharp knife, start at the top and cut downward with a gentle sawing motion, cutting corn off from the cob at about two-thirds the depth of the kernels. Continue cutting corn off the cob until all the corn is removed. Repeat with the remaining cob of corn. You should have 1–1/2 to 2 cups of raw corn kernels.
In a sauté pan, warm 2 of the remaining tablespoons of olive oil over medium heat. Add the raw corn kernels and ginger. Cover and cook for 3-4 minutes or until the corn is caramelized. Add the cucumber and cherry tomatoes and sauté for an additional 1-2 minutes. Season with salt and pepper to taste; set aside
Sprinkle scallops liberally with salt and pepper. Warm 2 tablespoons olive oil in a non-stick skillet over medium high heat. Add the scallops and sauté for about 1–1/2 minutes on each side, or until nicely browned.
To Plate
Spoon a large strip of pistachio cream on each plate. Place 3-4 scallops on top and cover with the corn-tomato sauce. Garnish with micro-celery and serve immediately.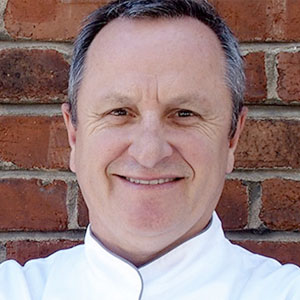 Chef / Owner, Piperade and Bocadillos, Williams-Sonoma Catering, San Francisco, California
Co-owner, Clos Pissara Winery, Catalonia, Spain
Member, Maitre Cuisinier de France
Recipient of Chevalier du Merite Agricole