Grilled Flank Steak and Pistachio Pesto Pita
By Harris Ranch Resort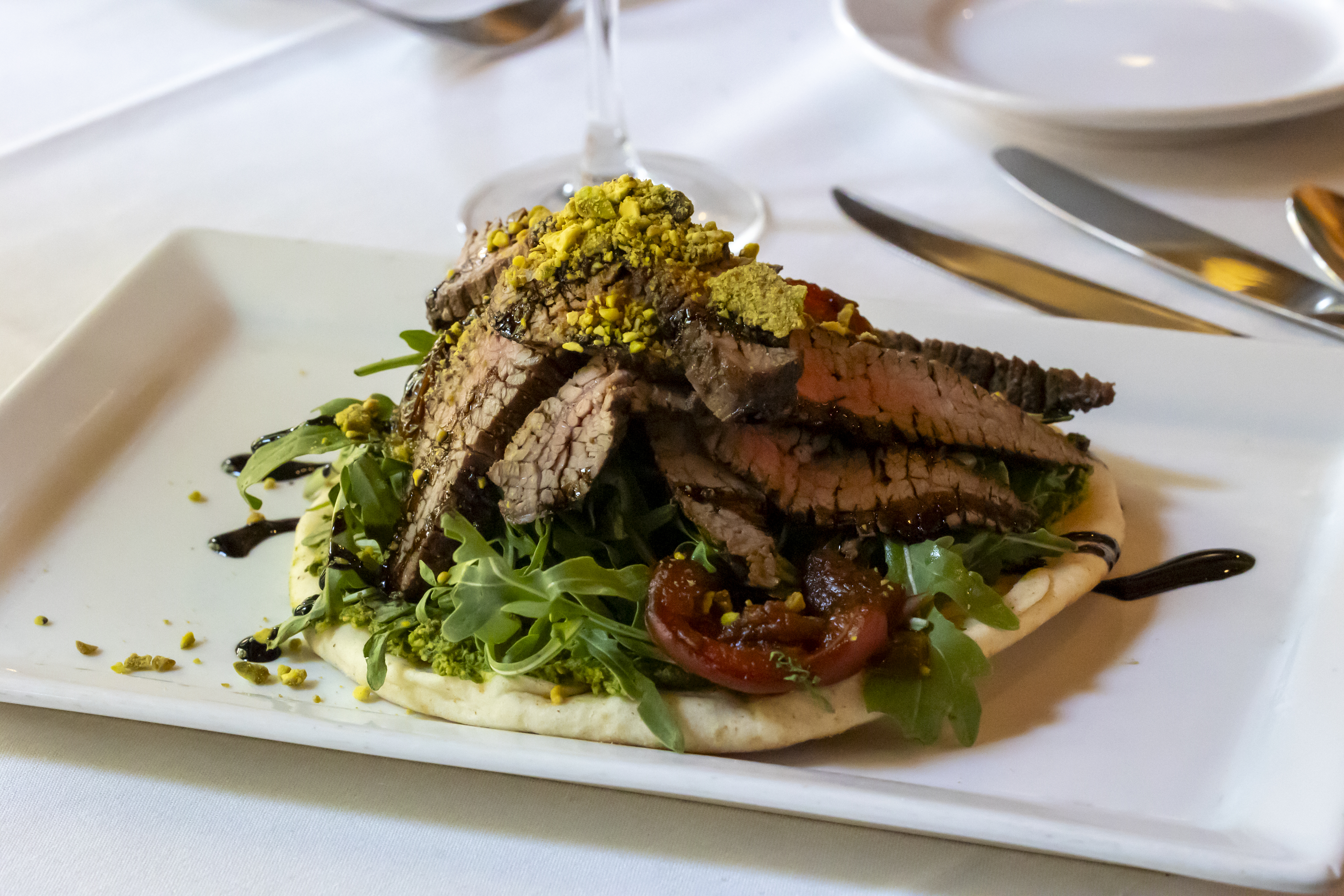 Yield
1 serving
Ingredients
Pistachio Pesto
1 cup Basil, fresh
½ cup Pistachios, roasted
1 tbsp Oregano, fresh
1 Garlic clove, peeled
½  Jalapeno, seeds removed
1 Lemon, juiced
¼ teaspoon Salt, kosher
¼ cup Water, tab
Balsamic Roasted Tomato
2 Tomatoes
½ cup Vinegar, balsamic
¼ cup Brown sugar, soft
Pistachio Pesto Pita
1 Pita Bread
2 oz Pistachio pesto
½ oz Arugula, fresh
2 oz Balsamic roasted tomatoes
4 oz Flank steak, grilled
1 tsp Pistachios, chopped
drizzle Balsamic glaze
Instructions
Pistachio Pesto
Combine all ingredients in a blender and mix until a smooth paste.
Balsamic Roasted Tomato
Cut a deep 'V' in tomatoes and squeeze out all seeds. Place a thick bottom pan in the oven at 425ºF (220ºC) and heat up. Once hot, place tomato in pan, add brown sugar to the top of tomatoes, and pour balsamic vinegar over brown sugar. Put the pan back in the oven and let cook for 30 minutes until the tomatoes are roasted and tender.
Pistachio Pesto Pita
Gently toast pita bread. Spread a generous layer of pistachio pesto on hot pita bread. Lay fresh arugula on pesto and spread warm roasted tomatoes over arugula. Cook flank steak to desired degree of doneness, see note below. Lay flank steak over lettuce, and top with balsamic glaze and chopped pistachios.
Pro Tip:
Flank Steak is also known as London Broil, Flank Steak Fillet, Jiffy Steak, Bavette Steak, Arrachera, Fraldinha, Vazio, Sobrebarriga or Vacío.
How to cook Flank Steak:
Heat a large grill mark cast-iron skillet over medium-high heat until sizzling hot. Spray the bottom with no-stick cooking spray or oil it with a brush. Add the flank steak and cook for 4-5 minutes on each side, depending on the thickness of your steak. Use a meat thermometer to take the internal tempearature. It must reach 125° F (52°C) for rare or 135° F (57°C) for medium-rare. After resting for five minutes, tented with foil, place the meat on a cutting board. Using a sharp knife, slice the steak thinly, into ¼ inch strips, against the grain. Cut the strips at a 45 degrees angle. "Against the grain" means that your knife should be cutting the meat perpendicular to the lines of muscle ("grain") that usually runs along the length of the flank steak.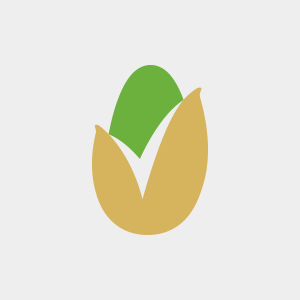 American Pistachio Growers (APG) is a non-profit trade association representing over 800 grower members in California, Arizona, and New Mexico.