Hi, Lo, No Pistachio Turkey Spirals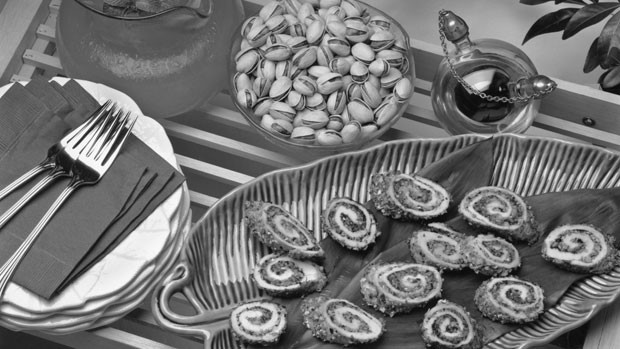 Yield: 6 to 8 servings.
Ingredients
1 pound Boneless fresh turkey breast slices
Balsamic vinegar
Olive oil
2 tablespoons Bottled or fresh minced garlic
2 tablespoons Tarragon, crumbled
1 cup Finely chopped, natural American pistachios
Instructions
Quickly pound out turkey slices with mallet or rolling pin to flatten (they should flatten to about 4 x 7-inch rectangles). Mix 2 tablespoons vinegar with 2 tablespoons oil and brush generously over turkey meat. Spread turkey evenly first with garlic, then tarragon and at least half the pistachios. Roll up and place seam-side down on counter. Brush outsides of rolls generously with more vinegar-oil baste then "dip" into remaining pistachios to coat. Roast at 400°F., for 15 minutes or until done in center. To check that pinkness is gone, cut carefully into center of one roll with tip of sharp knife. Serve in slices either warm or cold, with a drizzle of additional balsamic vinegar and olive oil.