Peachy Pistachio Chicken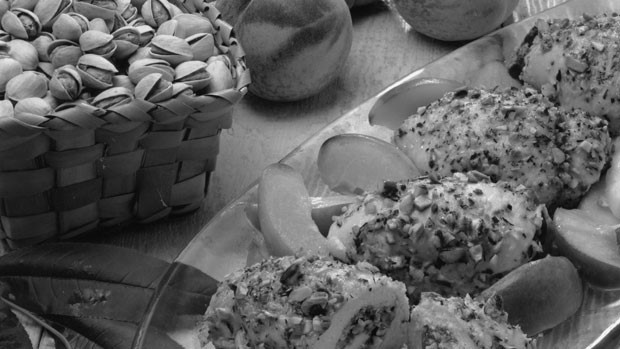 Yield: 4 servings.
Ingredients
4 Chicken half-breasts, boned and skinned
2 tablespoons Dijon mustard
¾ cup Coarsely chopped, natural American pistachios, divided
¼ pound Prosciutto or coppa, thinly sliced
2 tablespoons Flour
1 teaspoon Tarragon
1 Egg, beaten
6 tablespoons Butter or margarine
¼ cup Dry white wine
3 Fresh California peaches, cut into wedges
Instructions
Pound chicken half-breasts between sheets of wax paper until flattened. Spread mustard on top side of chicken; top with prosciutto and 2 tablespoons pistachios on each. Roll up chicken and secure with toothpicks. Mix flour with tarragon and remaining ¼ cup pistachios. Dip chicken in egg, then flour mixture, coating thoroughly. Melt 4 tablespoons butter in 13 x 9-inch baking dish or pan, place chicken in butter and bake uncovered at 375˚ F. for 20 minutes. Brush pan drippings over chicken to glaze. Add peach slices around chicken, dot with remaining 2 tablespoons butter and pour wine over. Bake 15 minutes longer or until done. Serve chicken and peaches with pan juices.