Pistachio Battered Tempura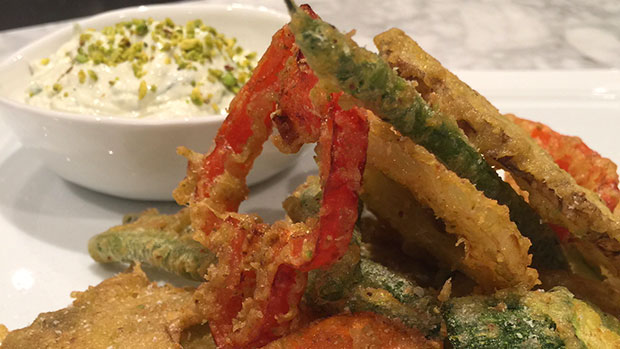 Yield
4 servings
Ingredients
Dip
1 cup Greek yogurt
1 teaspoon Kosher salt
¼ teaspoon Freshly ground black pepper
1 tablespoon Fresh lemon juice
3 heaping tablespoons Finely chopped pistachios
2 teaspoons Finely chopped tarragon leaves
Batter
1 Egg
1 pinch Kosher salt
1 cup Ice water
1 cup Pistachio flour
1 cup Corn starch
Tempura
8 (¼-inch) Diagonal slices of carrot
8 (½ -inch) Zucchini medallions
8 Green beans, tipped and tailed
8(1/4-inch) Thick slices of fennel
4 Thin rings red pepper
4 Thin slices of sunchoke
4 Thin Crosswise slices of onion
Neutral oil, such as canola or grapeseed, for deep frying
Instructions
Fo the Dip
Combine all the ingredients in a glass bowl. Stir well; set aside in a refrigerator.
For the Batter
Combine the egg, salt and 1 cup of ice water in a mixing bowl and, using a wire whisk, beat just until frothy. Add the pistachio flour and corn starch and continue to mix until thoroughly incorporated; Set aside in a refrigerator.
For the Tempura
Lay out the prepared carrots, zucchini, green beans, fennel, pepper, sunchokes and onion out on a sheet pan lined with parchment.  Fill a large, shallow saucepan 2/3 full of  oil and place over high heat, until the temperature reaches 350 degrees F.  
Cook one variety of vegetables at a time. Starting with the carrots, coat each carrot slice in the batter before dropping into the hot oil.  Let cook until edges begin to crisp and turn golden brown.  Using a slotted spoon, rotate the vegetables over in the oil several times, cooking each batch approximately  3 minutes. Be sure to maintain the oil temperature by raising or lowering the heat. 
Using a slotted spoon, remove the vegetables from the oil and set on a sheet pan lined with paper towels. Continue with each variety of vegetable until everything is cooked (about 4 batches in all).  Serve immediately with the dip on a serving platter.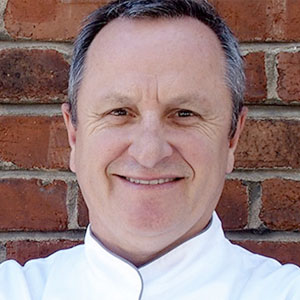 Chef / Owner, Piperade and Bocadillos, Williams-Sonoma Catering, San Francisco, California
Co-owner, Clos Pissara Winery, Catalonia, Spain
Member, Maitre Cuisinier de France
Recipient of Chevalier du Merite Agricole