Pistachio Chocolate Cake With Custard Sauce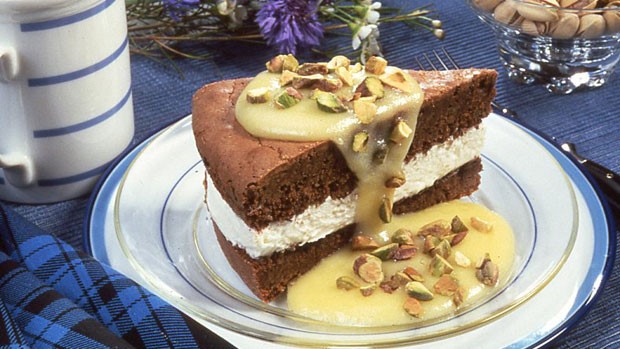 Yield
10-12 servings
Ingredients
6 ounces Semi sweet chocolate
½ cup Butter or margarine
Eggs, separated
1 cup Sugar
1 cup Flour
1 cup Natural American pistachios, finely chopped and divided
1 teaspoon Each baking powder and ground cinnamon
Instructions
Custard Sauce: Cream ½ cup softened butter or margarine and 2 ½ cups powdered sugar in 2 quart saucepan. Beat in 4 well beaten eggs and 1 cup half-and-half; cook and stir with wire whisk over low heat until thickened. Cool.
Custard Cream Filling: Whip 1 cup heavy cream with 1 tablespoon powdered sugar until stiff peaks form. Gradually fold in ½ cup Custard Sauce until blended.
Melt chocolate and butter over low heat; set aside. Beat egg yolks until foamy; gradually add sugar and beat until blended. Beat in melted chocolate mixture. In separate bowl, blend flour, 2/3 cup pistachios, baking powder and cinnamon; fold into chocolate mixture. Beat egg whites until stiff but not dry, fold into batter. Pour into greased and floured 9 inch cake pan. Bake at 350° F. 35 to 40 minutes or until wooden pick inserted near center comes out clean. Cool 10 minutes; remove from pan to wire rack. Cool completely. Split cake horizontally; spread Custard Cream Filling between layers. Slice into serving size pieces; spoon Custard Sauce over each piece. Sprinkle with remaining pistachios.