Pistachio & Pomegranate Meatballs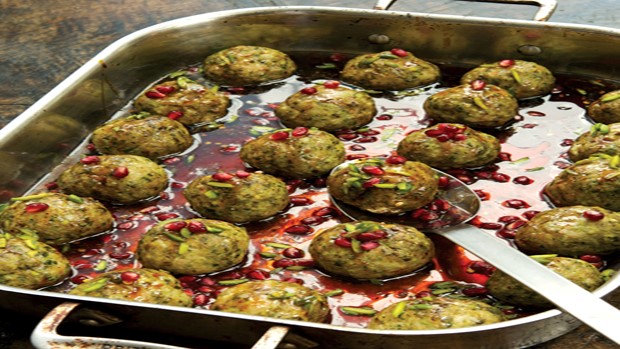 Yield
24–30 meatballs
Ingredients
For the Meatballs:
1 small onion, peeled and cut into 4
1½ cups raw pistachio kernels
¼ cup bread crumbs
2 cups chopped fresh parsley
1 cup chopped fresh tarragon
1 cup chopped fresh cilantro
1 tablespoon fresh lime juice
1 teaspoon red pepper flakes
1 teaspoon freshly ground black pepper
1 tablespoon ground cumin
2 teaspoons sea salt
2 pounds ground lamb (or ground chicken or turkey thighs; or boned and skinned ground fish fillets)
1 egg
½ cup oil, butter, or ghee*
For the Glaze:
¾ cup pomegranate molasses
¼ cup honey or grape molasses
1 teaspoon salt
½ teaspoon freshly ground black pepper
½ teaspoon red pepper flakes
For the Garnish:
2 tablespoons chopped pistachios
Sprigs of basil, sprouts, mint
1 cup fresh pomegranate arils
Instructions
To make the meatballs: Pulse all the ingredients, except the meat and egg, in a food processor until you have a grainy paste. Transfer to a large mixing bowl and add the meat and egg. Lightly knead with your hands for a few minutes (do not over-mix). Cover and place in the refrigerator for 30 minutes and up to 24 hours.
Preheat the oven to 500˚F. Generously oil a wide, nonreactive baking dish (wide enough to fit 24 meatballs, about 12x14 inches) and set aside. Remove the paste from the refrigerator and shape into bite-sized balls (about 1½ tablespoons each, you can use an ice cream scoop) and place the meatballs in the baking dish and brush well with oil. Bake in the oven for 10 minutes.
Meanwhile, in a mixing bowl combine all the ingredients for the glaze. It is important that you taste the glaze and be sure that it has a good balance between sweet and sour—add more honey if the pomegranate molasses you have used is too sour.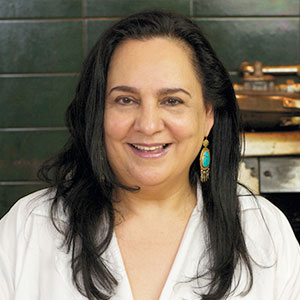 Today, Najmieh cooks, travels, and adapts authentic Persian recipes to tastes and techniques in the West.