Pistachio + Tuna Tartare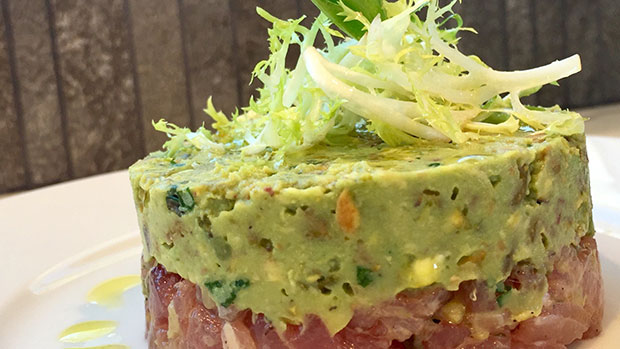 Yield
4-6 servings
Ingredients
12 ounces Fresh sushi grade ahi tuna #1 
1 tablespoon Finely chopped fresh Guindillas (or pepperonccini)
1 tablespoon Finely chopped capers
1 teaspoon Dijon mustard
1-1/2 teaspoons Fig paste (or jelly)
1/4 teaspoon Worcestershire sauce
1 medium Avocado
Freshly squeezed Lemon juice of 1/2 lemon
1/4 teaspoon Kosher salt
Freshly ground Black pepper to taste
1 cup Shelled pistachios, coarsely chopped
6 Fresh basil leaves, finely sliced in thin ribbons
3.25" diameter x 1.25" tall Ring mold
1 tablespoon Extra virgin olive oil
Frisée or chopped herbs to garnish
Instructions
Chop the tuna into 1/4-inch dice and place in a large bowl. Cover with plastic wrap; set aside in a refrigerator.
In a small bowl, combine the guindillas, capers, mustard, fig paste and Worcestershire sauce; set aside. Halve the avocado, remove pit, and scoop the flesh into a bowl. Add the fresh lemon juice, salt, and pepper to taste. Mash the ingredients together with a fork, keeping the texture slightly chunky. Stir the pistachios and basil into the mashed avocado until thoroughly combined.
Using a mold, place equal layers of the avocado mash in the bottom of each individual mold (should fill each one about 50%)
Transfer pepper mixture into the bowl with the chopped tuna.  Add extra virgin olive oil and salt and pepper to taste. Using a fork, fold the ingredients together until evenly dispersed.
Fill the remaining space in each mold with equal parts of tuna tartare.
To Plate
Using a flat spatula, invert each mold onto a plate.  Drizzle each serving with drops of extra virgin olive oil and garnish with frisée or chopped herbs.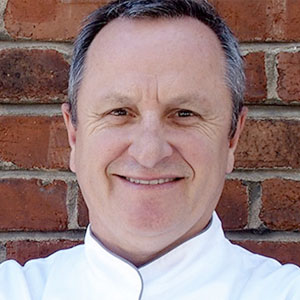 Chef / Owner, Piperade and Bocadillos, Williams-Sonoma Catering, San Francisco, California
Co-owner, Clos Pissara Winery, Catalonia, Spain
Member, Maitre Cuisinier de France
Recipient of Chevalier du Merite Agricole