Pistachio Turnovers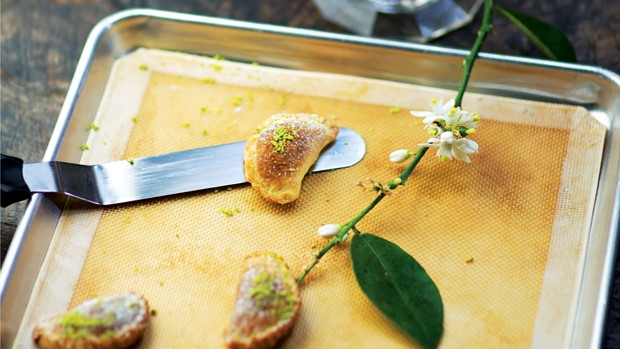 Yield
20 pieces
Ingredients
Dough
Use ready-made puff pastry (thawed) or make your own dough (below)
2 egg yolks, beaten
1 cup plain yogurt or sour cream
½ cup oil
¼ cup milk
3 cups unbleached all-purpose flour, sifted with 1 teaspoon baking powder
Filling
1 cup ground pistachios
½ cup sugar
1 tablespoon ground cardamom
1 tablespoon rose water
Dusting and Decoration:
½ cup confectioners' sugar
¼ cup ground pistachios
Instructions
To make the homemade dough
In a mixing bowl, beat the egg yolks until creamy. Add yogurt, oil, and milk, and mix for 2 minutes. Gradually blend in 3 cups sifted flour mixture. Knead for about 5 minutes to produce a dough that does not stick to your hands (add more flour if necessary). Place the dough in a zip-lock bag, seal, and refrigerate for 3 hours.
Meanwhile, prepare the filling
In a wide skillet over medium heat, combine the ground pistachios and sugar, and stir-fry for 1 minute. Add the cardamom and rose water, and stir-fry for 20 seconds. Set aside to cool. Place the oven rack in the center and preheat oven to 400°F (200°C). Line 2 baking sheets with baking mats or parchment paper. Dust a cool, floured surface. Knead the dough for 1 minute and roll it out to a 1/8-inch thick sheet (if using ready-made, thawed puff pastry, spread it out on the floured surface). Use a cookie cutter or the open end of a glass, dipped in flour, to cut out 3-inch-diameter circles of dough. Fill each circle with 2 teaspoons of the pistachio mixture. Fold each circle into a crescent shape and close the edges with your fingers. Use a fork to crimp around the edges of the dough to double seal the filling inside. Carefully transfer the turnovers one by one onto the baking sheet. Do not crowd. Bake until golden brown (about 15 to 20 minutes). Remove from oven and place on a cooling rack. When they are cool enough to handle, dust them with confectioners' sugar mixture and sprinkle with pistachios. Arrange the pastries in a pyramid on a serving platter and serve immediately, or store in the refrigerator in a covered glass container.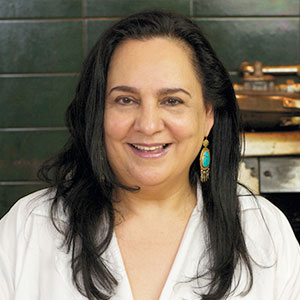 Today, Najmieh cooks, travels, and adapts authentic Persian recipes to tastes and techniques in the West.