Quinoa Salad with Pistachios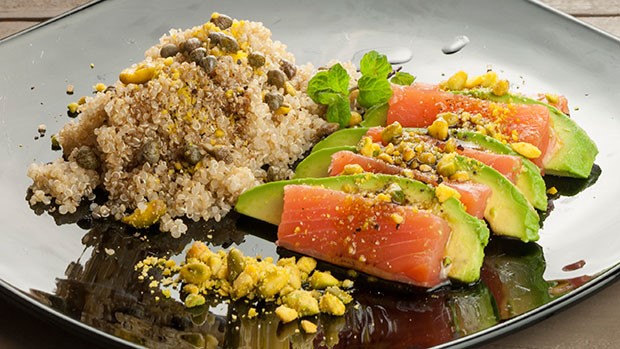 Yield: 2 servings
Ingredients
For the salad:
1 cup quinoa
2 cups water
¼ pound smoked salmon filet
1 avocado
Capers
For the vinaigrette:
Extra virgin olive oil
Balsamic vinegar
Salt
Black pepper
1/2-3/4 cup shelled pistachios
Instructions
Rinse the quinoa before cooking to remove the saponin, a substance that if is not well eliminated, can leave a bitter taste. Place the quinoa in a saucepan with 2 cups water; bring to a boil and then cook over medium heat for 10-15 minutes. If the quinoa seems too dry once it's fully cooked, just add a little more water. Remove from heat and set aside.
Remove the skin and pit of the avocado and slice; cut the salmon into pieces approximately ¼ inch thick. Crush the pistachios. Leave some large chunks, to give the salad some crunch. Mix the oil and vinegar (about 3 parts oil to 1 part vinegar) and salt to taste. Whisk the vinaigrette to blend the mixture.
To assemble the dish, add a few capers in the quinoa, which combine great with salmon and avocado, and place it on the dish. Next to the quinoa, arrange the slices of salmon and avocado alternately. Sprinkle a little pepper over all. When serving, sprinkle with chopped pistachios and season to taste with the vinaigrette.