Rib-Eye Steaks with Pistachio Butter and Asparagus
By Elaine Johnson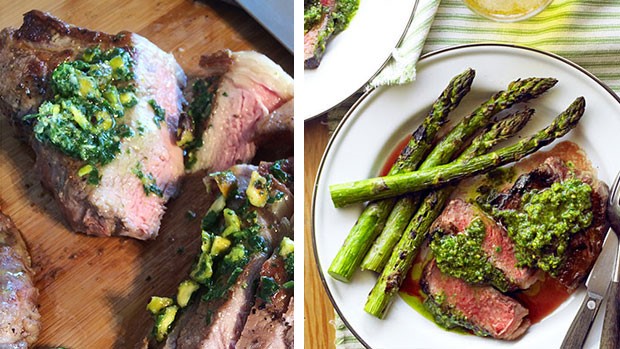 Ingredients
¼ cup Shelled (kernels), roasted unsalted pistachios
1 cup Arugula
¼ cup Butter, softened
2 Boneless rib-eye steaks (each about 12 oz.)
1 pound Asparagus, trimmed
2 tablespoons Olive oil
1½ teaspoons Kosher salt
1½ teaspoons Pepper
Instructions
Whirl pistachios and arugula in a food processor until minced. Add butter and whirl until smooth, scraping down inside of bowl as needed. Transfer to a small container and chill. Heat a charcoal or wood-fired grill to high (450° to 550°; you can hold your hand 5 inches above cooking grate only 2 to 4 seconds). Coat steaks and asparagus with oil and season with salt and pepper. Grill steaks, turning once, until done the way you like, 6 to 15 minutes for medium-rare. Grill asparagus in last few minutes, turning once, until tender-crisp. Transfer everything to a cutting board, dollop steaks with butter, and tent with foil. Let rest 5 minutes. Slice steaks and serve with asparagus.
Pistachio butter can be made ahead, up to 1 week; keep chilled.
*If you can't find unsalted pistachios, use unsalted butter to balance the salty nuts.