Roasted Zucchini & Pistachio Gratin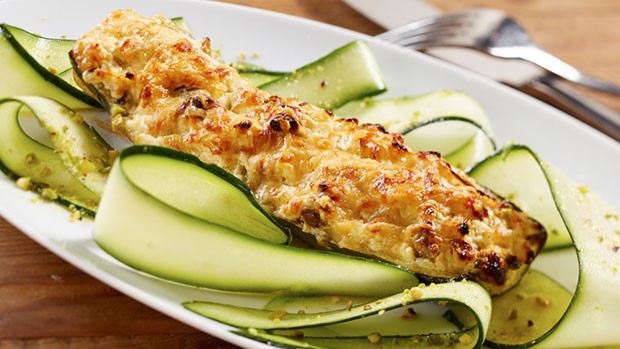 Yield
Serves 4
Ingredients
4 zucchini (medium-sized)
⅓ cup + 3 tablespoons olive oil
⅓ cup finely diced onion
2 small garlic cloves, minced
Salt and freshly ground black pepper to taste
½ cup goat cheese (mild, creamy)
½ cup roasted, unsalted pistachio kernels, coarsely chopped
½ cup grated sheep milk's cheese
4 large basil leaves, very thinly sliced
Instructions
Pre-heat an oven to 400 degrees F.
To prepare the zucchini shells, cut off and discard the ends of each zucchini. Slice each zucchini in half, lengthwise. Using a spoon, gently scrape the zucchini flesh out onto a chopping board. Coarsely chop the flesh and set aside.
Pour ⅓ cup olive oil in the bottom of a large, oven-proof, gratin dish and place hollowed out zucchini shells in the dish and sprinkle with salt to taste.
To prepare the zucchini filling, warm 3 tablespoons olive oil in a saute pan over medium heat. Add the onion and garlic and sauté for 3 - 4 minutes, stirring occasionally, or until the onions are soft and translucent. Add the zucchini flesh and continue to sauté until zucchini is soft, approximately 3 - 4 minutes. Transfer ingredients to a shallow bowl and set aside to cool to room temperature.
When cool, gently stir the goat cheese, basil and pistachio kernels into the zucchini filling and season with salt and pepper to taste. Spoon the filling in equal amounts into each zucchini shell. Sprinkle the sheep's milk cheese evenly across the top of all the zucchini. Place dish in the preheated oven for 25 – 30 minutes or until cheese is golden brown and bubbling.
Serve immediately*
(*this dish may be served either hot or at room temperature)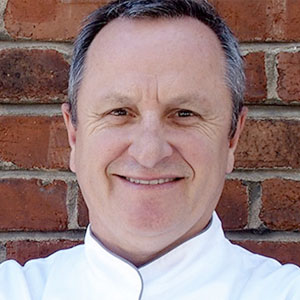 Chef / Owner, Piperade and Bocadillos, Williams-Sonoma Catering, San Francisco, California
Co-owner, Clos Pissara Winery, Catalonia, Spain
Member, Maitre Cuisinier de France
Recipient of Chevalier du Merite Agricole