Savory Pistachio & Duck Risotto Balls with Warm Pistachio Sultana Gremolata
By Chef Nathan Hood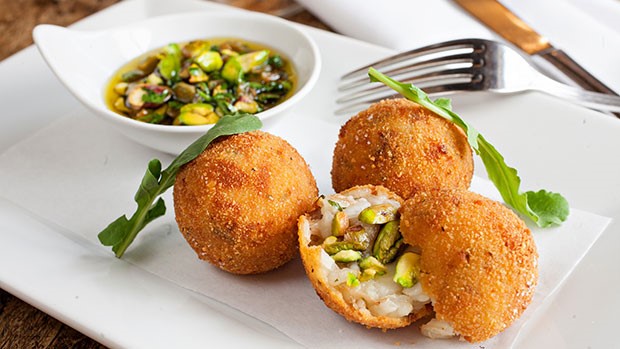 Yield
4 to 6 servings
Ingredients
Risotto "Arancini"
1 cup Arborio rice
1 cup Dry white wine
½ Onion, minced
2 tablespoons Olive oil
2 Garlic cloves, minced
1 quart Chicken stock
2 legs of Duck confit
1 cup Parmesan cheese
½ pound Whole butter
To taste, salt and pepper
1 pound Mozzarella, ½" cubes
3 Eggs
1 cup Milk
2 cups Panko (spun fine)
3 cups Pistachios
Pistachio Sultana Gremolata:
1 cup Toasted pistachios, chopped
½ cup Parsley, chopped
¼ cup Sultanas or golden raisinss, chopped
1 cup Extra virgin olive oil
⅛ cup Preserved lemon rind, minced
To taste, salt
Instructions
For risotto "arancini" balls:
Sauté onions and garlic in olive oil in a rondo until translucent. Add rice and toast it until it becomes very aromatic. Add wine and cook while stirring with a wooden spoon on medium to high heat, until the wine is almost gone, or "sec." Add stock, ladle-by-ladle, for 24 minutes or until rice is al dente, stirring all the while. Remove from heat and fold in Parmesan, butter, confit (picked), 2 cups pistachios, salt and pepper. Place on a sheet tray lined with two pieces of parchment paper. Let cool.
When cool, take 2 oz. of finished rice and place Mozzarella cube in the center. With your hands, shape the rice into a golf ball-sized ball. Set up breading station by taking a bowl of all-purpose flour, a bowl of eggs and milk (whisked together) and a bowl of the panko and spun cup of pistachios. Drop the ball into each one in the same order, making sure to coat completely. Keep in the refrigerator, or fry immediately at 350°F for 5 minutes, or until golden brown.
For pistachio sultana gremolata: Mix all ingredients. Taste for seasoning and balance. Serve gremolata alongside risotto balls.