Seared Halibut with Pistachio Relish & Tomato Saffron Stew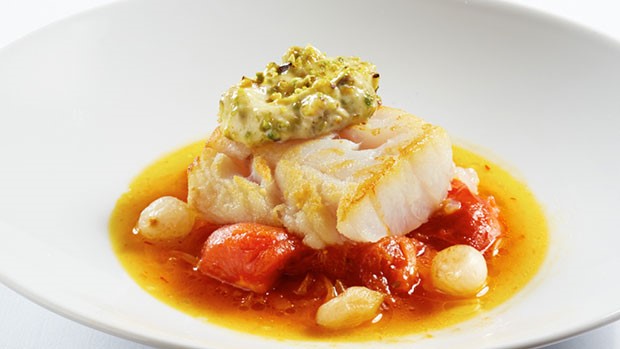 Yield
4
Ingredients
2 egg yolks
⅓ cup canola or vegetable oil
⅓ cup roasted pistachio kernels, coarsely chopped
1 teaspoon freshly squeezed lemon juice
½ cup + 2 tablespoons olive oil
1½ cups diced onion
2 tablespoons chopped garlic
¼ teaspoon loosely packed saffron threads
2 large ripe tomatoes, prefereabley heirloom, cored and cut into large cubes
1 pound fresh halibut filet (divided into 4-oz portions)
3 garlic cloves, crushed
1 tablespoon mustard
½ teaspoon kosher salt
¼ teaspoon freshly ground black pepper
Instructions
To prepare the pistachio relish, combine egg yolks, garlic, mustard, salt and pepper in a small bowl using a wire whisk. Gradually add the oil, whisking vigorously in order to fully emulsify the ingredients. Add the pistachios and lemon juice and stir just until evenly combined. Set aside in a refrigerator.
For the tomato stew, heat a casserole or saucepan over medium-high heat until hot. Add the olive oil and as soon as it ripples, add the onion, garlic and saffron and cook, stirring occasionally for 3 to 4 minutes, or until the onion is translucent and just beginning to color.
Stir in the tomatoes, cook for a few seconds and then cover and decrease the heat to low.
Cook for 20 minutes to blend the flavors.
Just before serving, warm 2 tablespoons olive oil in a medium non-stick pan over medium heat. Sprinkle the filets with salt and pepper before adding them to the sauté pan. Sear the filets for approximately 2 minutes on each side or until cooked through and lightly browned.
On a serving platter, lay a bed of the tomato stew, place the fish on top of the tomatoes and scoop the relish along on center of the filets. Serve immediately.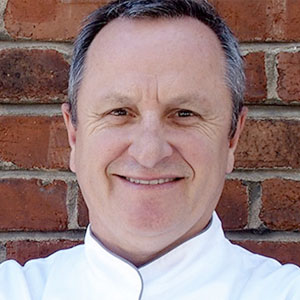 Chef / Owner, Piperade and Bocadillos, Williams-Sonoma Catering, San Francisco, California
Co-owner, Clos Pissara Winery, Catalonia, Spain
Member, Maitre Cuisinier de France
Recipient of Chevalier du Merite Agricole