Suckling pig belly roast with eggplant caviar, cocoa beans & concentrated meat consommé with pistachios
By Omar Allievi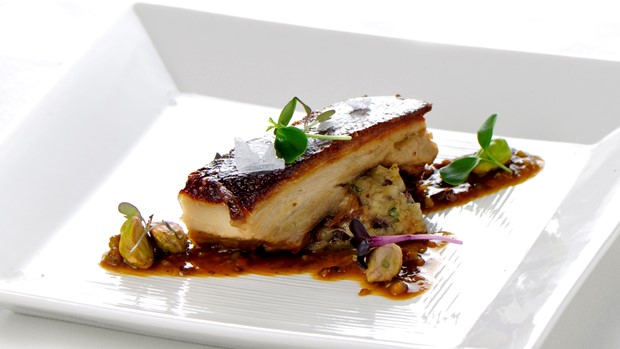 Yield
4 to 6 servings
Ingredients
2 pounds Uncooked suckling pig belly, deboned
2 Carrots
2 Celery sticks
2 Onions
4 Cloves garlic, unpeeled
Bunch aromatic herbs with rosemary, thyme, marjoram and a bay leaf
8½ cups Vegetable consommé
½ Glass white wine
1 pound Eggplants
¼ cup Cocoa beans
3 Mint leaves, chopped
Extra virgin olive oil
Salt and pepper
½ cup Pistachios, natural chopped
Instructions
Cut vegetables into pieces and sauté in an oven dish. When wilted add suckling pig belly with rind facing up, after previously salting and peppering the meat side. Seal in a 400° F oven for about ten minutes. Drizzle with wine and evaporate off liquid. Cover belly up to rind with consommé and add herbs. Lay a sheet of oven paper on pork belly and cover oven dish with a sheet of kitchen foil.
Lower oven to 250° F and cook for three hours. Very delicately remove pork belly from pan and set aside to cool with rind facing down. Place a weight on top to flatten rind as much as possible. When cool, cut belly into 1½" slices and cook in a non-stick pan with a drizzle of oil (IMPORTANT: cover because rind tends to spit). When golden and crispy, turn slices over and brown on other side too, adding a pinch of salt. Filter cooking juices left in pan, adding ½ cup of pistachio granules and reducing very gently until thick. When ready, keep in a warm place.
To prepare eggplant caviar, cut eggplant in half and score to form a checkerboard pattern. Dress with oil, salt and pepper and bake in a 325° F oven for half an hour.
When soft, remove from oven and set aside to cool. Use a spoon to remove pulp and chop with a knife, adding a pinch of salt, oil, the cocoa beans and chopped mint.