White Chocolate Pistachio Cheesecake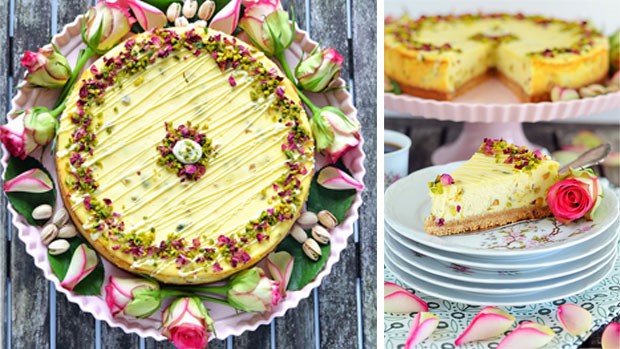 Yield
11-inch springform pan
Ingredients
For the floor:
3 cups butter cookies
½ cup butter
For the filling:
20 oz. cream cheese, softened
1 cup regular cottage cheese
80 g sugar
¾ cup corn flour
2 tsp vanilla sugar
3 eggs (L)
½ cup cream
7 squares white chocolate
Scant cup unsalted, roasted pistachios, coarsely chopped
For the decoration:
dried rose petals
chopped pistachios
white chocolate
Materials:
11-inch springform pan
Greaseproof paper
Butter for greasing
Cooking pot
Bowl, which is suitable for a water bath
Pastry bag or freezer bag
Instructions
Preheat the oven to 350°F. Line the bottom of a springform pan with parchment paper and close the mold.
Place butter cookies in a freezer bag, removing the air and sealing. Crumble the cookies with rolling pin or place cookies in a food processor and pulse.
Melt the butter in a saucepan over low heat and allow to cool slightly.
Place the butter in a bowl and add the cookie crumbs. Mix together with your fingers to form a crust; spread the mixture evenly on the bottom of the springform pan, pressing firmly with your fingers. Place in the oven and bake for 10 minutes. Remove and cool.
In the meantime, prepare the filling. Combine the cream cheese, cottage cheese, sugar and cornstarch and blend with an electric mixer or food processor. Add the eggs, one at a time, mixing well after each addition.
Chop the white chocolate coarsely and melt slowly over the hot water in the double boiler.
Once the chocolate is melted, stir in the cream. Add the coarsely chopped pistachios and stir with a spatula.
Carefully spread the cheesecake filling on the dough and bake at 175 ° C for 40 minutes. If the cake gets too brown, cover it with some aluminum foil. Leave the baking time for 30 minutes in the oven, leaving the door slightly open.
Remove the cheesecake from the oven and allow to cool to room temperature. So that it does not tear, I cut in about five minutes with a sharp knife along the edge.
Once the cheesecake has cooled, it should be left in the fridge for at least two hours, better overnight.
After two hours / the next day, remove the cheesecake from the springform pan. For decoration, melt the white couverture above the water bath and place in a spray or freezer bag. Cut a small corner and spread thin strips on the cheesecake. Before the chocolate has dried, decorate with a few chopped pistachios and dried rose petals. Let it dry and enjoy.