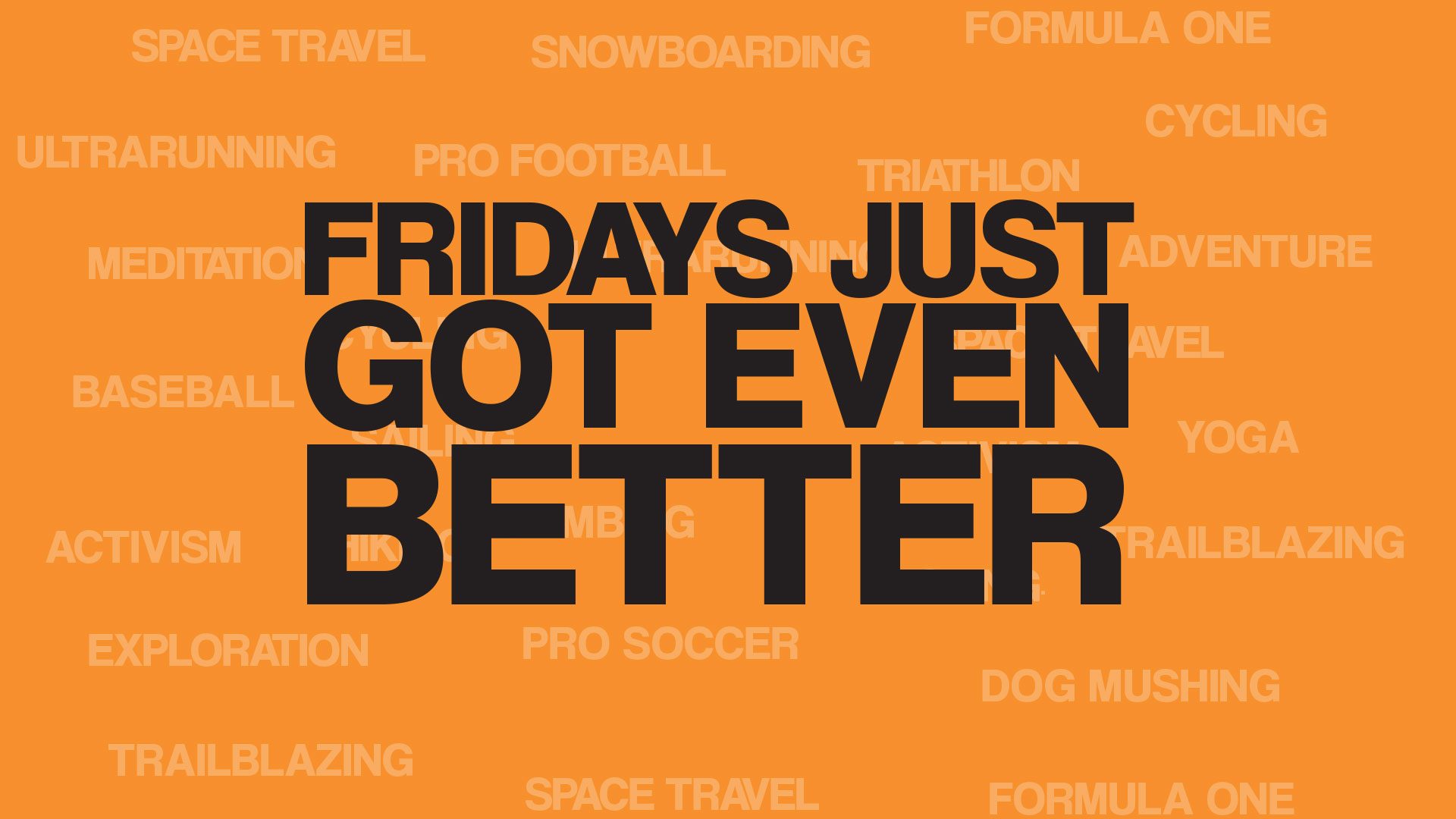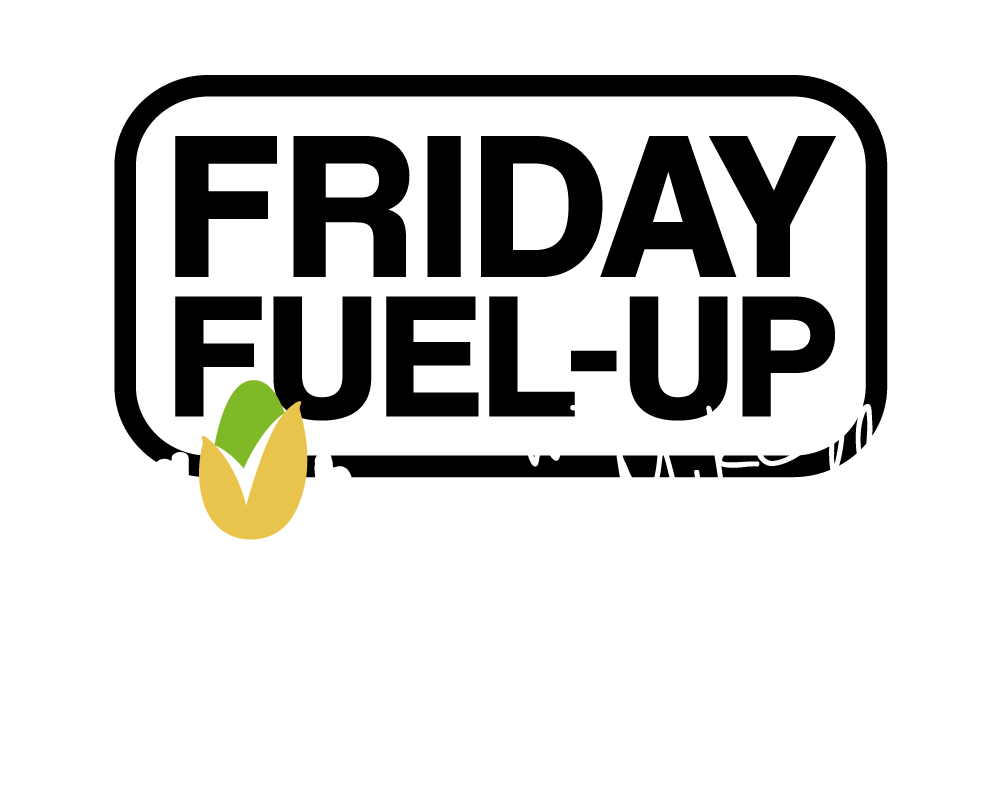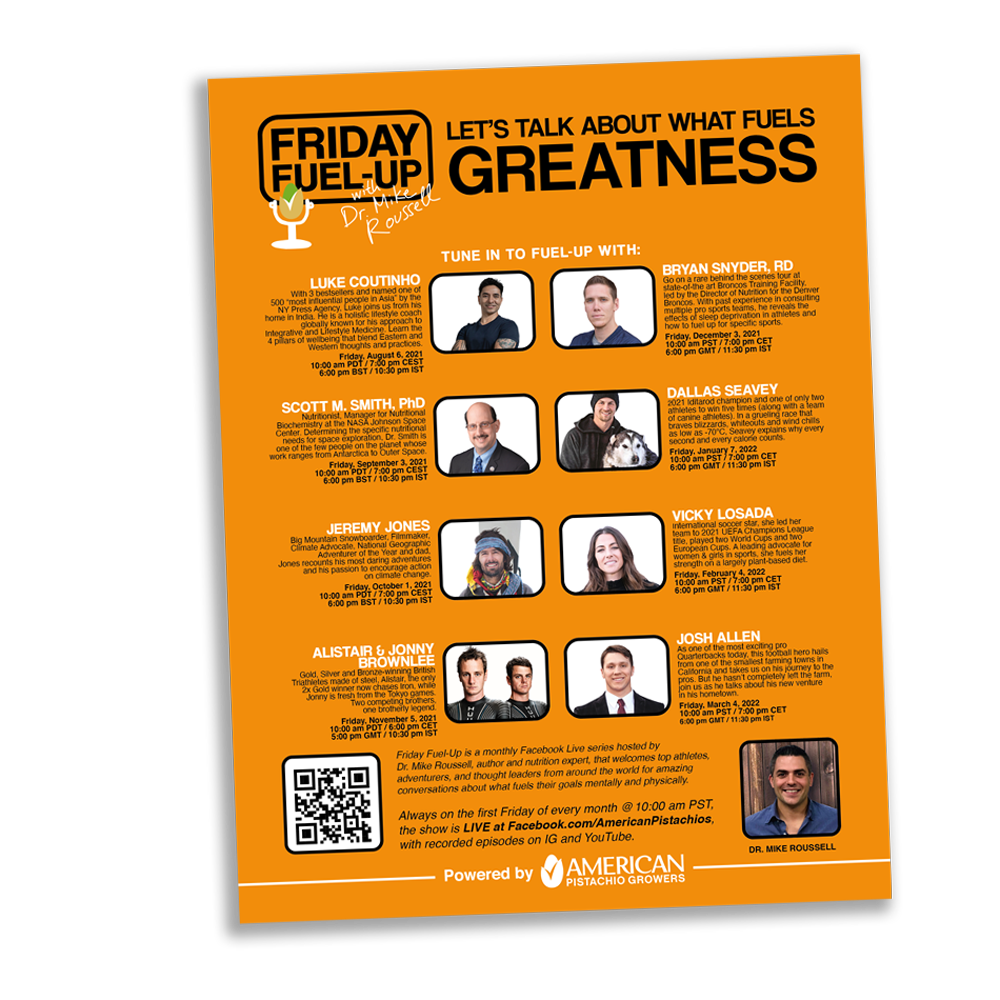 FRIDAY FUEL-UP with Dr. Mike Roussell is a monthly Facebook Live series hosted by Dr. Mike Roussell, author and nutrition expert.  Join him as he hosts some of today's leading athletes, adventurers, and thought leaders to discuss what fuels their passions and what fuels them literally, in terms of nutrition and training programs that helped them achieve their goals.
WHEN: THE FIRST FRIDAY OF EVERY MONTH
TIME: 10:00 AM PDT
WHERE: Facebook.com/AmericanPistachios
WHAT IF I MISS IT: FOLLOWING THE LIVE EVENT, WATCH PREVIOUSLY RECORDED EPISODES BELOW, OR ON Instagram.com/AmericanPistachios.
Watch previously recorded episodes below:
Dr. Mike Roussell takes your questions for British heroes, brothers Alistair and Jonny Brownlee, as they share their one-of-a-kind story of true sportsmanship.
Dr. Mike Roussell digs into the mind of the guy who remains the only person to ascend and descend 20,000' Shangri-La, freeriding on a snowboard.
Dr. Mike's fascination with space meets up with one of the few people on earth whose work extends from Antarctica to the International Space Station. His experiments with astronauts in space may one day affect how we eat on terra firma. Buckle up and meet Scott M. Smith, PhD, NASA's head of space nutrition – it's not what you think.
With 3 bestsellers and named one of 500 "most influential people in Asia" by the NY Press Agency, Luke joins Dr. Mike for a conversation from his home in India. He is a holistic lifestyle coach globally known for his approach to Integrative and Lifestyle Medicine. Learn the 4 pillars of wellbeing that blend Eastern and Western thoughts and practices.

About
Dr. Mike Roussell
Dr. Mike Roussell is known for transforming complex nutritional concepts into practical nutritional habits that his clients can use to ensure long-lasting health. A prolific author of more than 400 published articles on health and nutrition, Dr. Roussell has authored and/or served as the consulting nutritionist for 9 books about health, nutrition and weight loss. Dr. Roussell holds a degree in biochemistry from Hobart College and a doctorate in nutrition from Pennsylvania State University.