Pro skier, pro mountain biker, and actor, KC Deane, shares how he keeps in shape to compete in two different sports year-round.
WATCH FRIDAY FUEL-UP INTERVIEW WITH KC DEANE BELOW:
Watch previously recorded episodes below:
24x Windsurfing World Champion, Professional Boardrider and Kitesurfing Pioneer, Robby Naish, sits down with Dr. Mike Roussell to reveal his secrets to his longevity and offers advice for anyone getting started.
Director of Performance Nutrition for the San Francisco 49ers, Jordan Mazur, uses food as fuel to help athletes become the most efficient running machines. Find out how he fuels elite athletes and learn some healthy food alternatives.
The Director of Performance Nutrition and Wellness for the Los Angeles Rams, Joey Blake, helped his team become champions. Find out his strategy for fueling pro athletes and get some tips on performance nutrition.
Astronaut Scott Kelly shares HIS stories AND EXPERIENCES about his record-breaking and captivating year spent in space aboard the International Space Station.
As one of the most exciting pro quarterbacks today, this football hero hails from one of the smallest farming towns in California and takes us on his journey to the pros.
In a grueling race that braves blizzards, whiteouts and wind chills as low as -70°C, dog musher Dallas Seavey explains why every second and every calorie counts.
Dr. Mike Roussell digs into the mind of the guy who remains the only person to ascend and descend 20,000' Shangri-La, freeriding on a snowboard.
Go on a rare behind the scenes tour at the state-of-the art Broncos Training Facility, led by the Director of Nutrition for the Denver Broncos.
Brothers Alistair and Jonny Brownlee, Olympic Gold triathletes and British heroes, share their one-of-a-kind story of true sportsmanship.
Dr. Mike's fascination with space meets up with one of the few people on earth whose work extends from Antarctica to the International Space Station. His experiments with astronauts in space may one day affect how we eat on terra firma. Buckle up and meet Scott M. Smith, PhD, NASA's head of space nutrition – it's not what you think.
With 3 bestsellers and named one of 500 "most influential people in Asia" by the NY Press Agency, Luke joins Dr. Mike for a conversation from his home in India. He is a holistic lifestyle coach globally known for his approach to Integrative and Lifestyle Medicine. Learn the 4 pillars of wellbeing that blend Eastern and Western thoughts and practices.

About
Dr. Mike Roussell
Dr. Mike Roussell is known for transforming complex nutritional concepts into practical nutritional habits that his clients can use to ensure long-lasting health. A prolific author of more than 400 published articles on health and nutrition, Dr. Roussell has authored and/or served as the consulting nutritionist for 9 books about health, nutrition and weight loss. Dr. Roussell holds a degree in biochemistry from Hobart College and a doctorate in nutrition from Pennsylvania State University.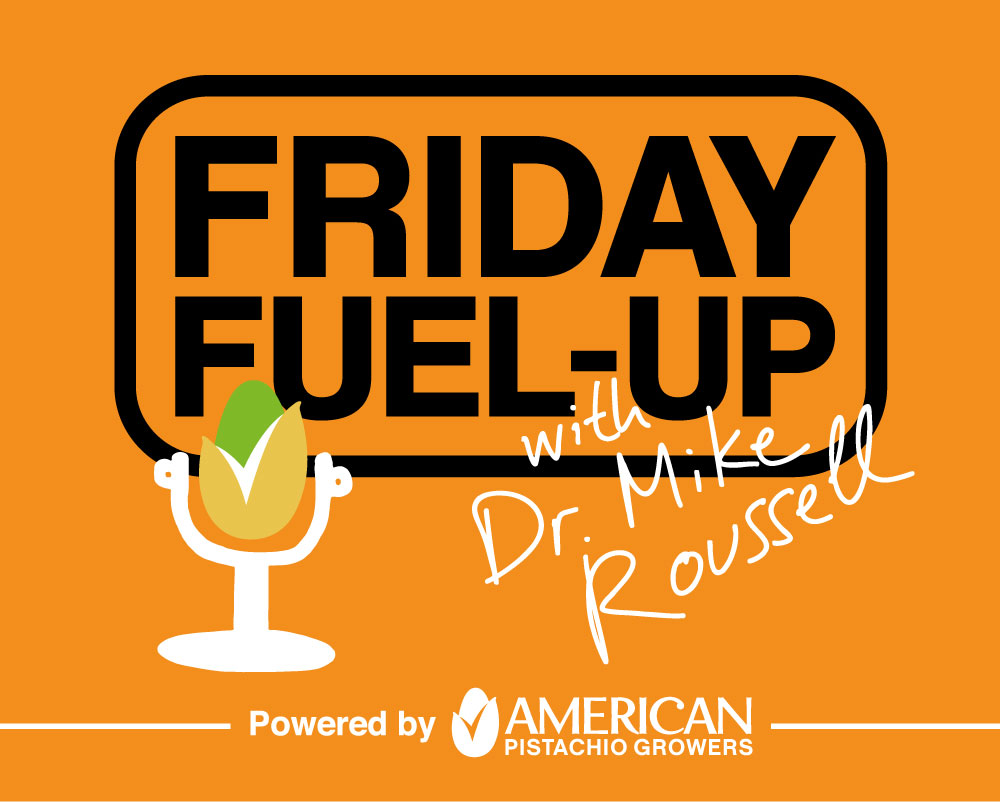 FRIDAY FUEL-UP is a Facebook Live series hosted by Dr. Mike Roussell, author and nutrition expert.  He has hosted some of today's leading athletes, adventurers, and thought leaders to discuss what fuels their passions and what fuels them literally, in terms of nutrition and training programs that helped them achieve their goals.
Follow @AmericanPistachios on FACEBOOK and INSTAGRAM for the next episode of Friday Fuel-Up.