Kimchi Fried Rice
Ingredients
2 tsp    cooking oil
½ cup   bacon, cut into ½" square pieces
1 tsp    minced garlic
1 cup   kimchi, cut into ½" square pieces
½ cup   roasted pistachio kernels
1 cup   fresh shiitake mushrooms, cut into ¼" dice
3          large eggs (2 lightly beaten, 1 cooked sunny side up for garnish)
3 cups  cooked medium grain rice
¼ cup   kimchi juice
2 tsp    sesame oil
Topping
¼ cup   roasted pistachio kernels, coarsely chopped
1          toasted nori sheet, torn into 1" square pieces
1 tbsp  white sesame seeds
Instructions
Heat a fry-pan over medium, add cooking oil and swirl to coat bottom and sides. Add bacon and cook until the edges are brown. Add garlic, kimchi and cook until most of the liquid is evaporated. Add pistachios and mushrooms, cook until mushrooms are soft, about 2 minutes. 
Push everything to the one side and add beaten eggs, cook until most egg has set, using spatula to break the curds into small pieces. Add rice and kimchi juice. Mix everything together thoroughly. Add sesame oil. 
To make topping, place nuts, nori pieces and sesame seeds into a spice grinder. Pulse until nori is chopped into small bits, but not powdery. Top fried rice with a sunny side up egg. Sprinkle pistachio nori topping over egg and rice.
Copyright by Yan Can Cook, Inc. 2023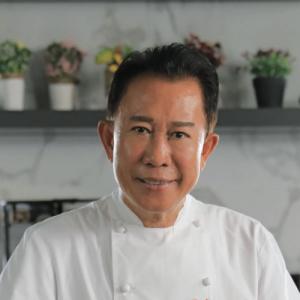 Spanning over four decades, celebrity Chef Martin Yan has traveled around the world, sharing the best of Chinese and American culture, food, and personal enrichment with multiple generations of audiences. His grand vision is shaped by more than 3,500 culinary and travel TV shows, 32 cookbooks, and several restaurants in North America and Asia, which include M.Y. China, a highly rated culinary hot spot in San Francisco.