Minced Beef, Pistachio and Egg over Rice
Yield
4 servings
Ingredients
Marinade
2 teaspoons soy sauce
¼ teaspoon white pepper
2 teaspoons cornstarch
1 tablespoon water
6 oz lean ground beef
2 tablespoons cooking oil
1 onion, chopped
1 tablespoon minced garlic
1 cup frozen mixed vegetables, defrosted (peas, carrot, corn, etc)
3/4 cup coarsely chopped pistachios
1 cup chicken or vegetable broth
2 teaspoons soy sauce
1 tablespoon oyster sauce
1/2 teaspoon sugar
1 teaspoon sesame oil
1 tablespoon cornstarch, dissolved in 2 tablespoons water
4 cups hot, cooked rice
1 egg
2 tablespoons chopped green onions
2 tablespoons whole pistachios
Instructions
Combine all marinade ingredients in a bowl. Add beef and stir to mix well. 
Add oil to a skillet over medium high heat. Add onion and garlic and stir-fry until onions are translucent, about 3-4 minutes. Add ground beef and cook until beef half done. Add mixed vegetables, pistachio nuts, broth, soy sauce, oyster sauce, sugar, and sesame oil. Bring to a simmer and cook for 1 minute. Thicken with cornstarch solution.
To serve, mound hot rice on a serving platter. Ladle beef mixture over rice. Using a large spoon, make a small dent in the center of this mound. Crack the egg* into the dent. Garnish with green onions and pistachio nuts before serving. 
Typically, the diner breaks the egg and mixes it with the beef and rice before enjoying this comfort dish.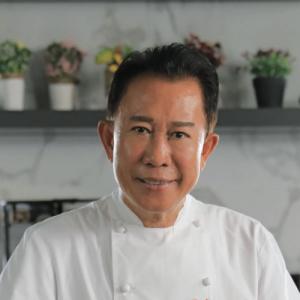 Spanning over four decades, celebrity Chef Martin Yan has traveled around the world, sharing the best of Chinese and American culture, food, and personal enrichment with multiple generations of audiences. His grand vision is shaped by more than 3,500 culinary and travel TV shows, 32 cookbooks, and several restaurants in North America and Asia, which include M.Y. China, a highly rated culinary hot spot in San Francisco.