Stuffed Pistachio Cabbage Rolls
Ingredients
1 head cabbage
Filling
1 lb ground beef or pork
1 egg
½ cup   rice
½ cup   coarsely chopped pistachio
1 tbsp  Worcestershire sauce
1 tbsp  ketchup
½ tsp salt
¼ tsp black pepper
Sauce
1 14-oz can tomato sauce
½ cup   apple cider vinegar
1 tsp salt
2 tsp    sugar
Instructions
Remove core from cabbage. Place it in a large pot of boiling water and let it simmer for 10 – 12 minutes. Carefully remove the cabbage and let it cool off for 15 – 20 minutes. Remove cabbage leaves, one at a time. Cut out the tough stem to make the leaf more pliable.
Mix all filling ingredients together. Place about ¼ cup meat mixture in a cabbage leaf and roll it up like folding an egg roll. Repeat with remaining meat mixture and cabbage leaves. Place all cabbage rolls in a dutch oven. 
Combine all sauce ingredients in a large bowl. Pour over cabbage bundles. Cook over medium heat for 1 hour.
Copyright by Yan Can Cook, Inc. 2023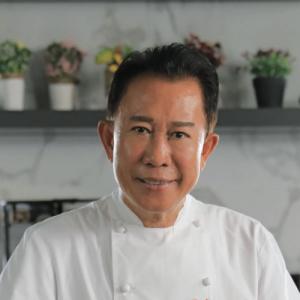 Spanning over four decades, celebrity Chef Martin Yan has traveled around the world, sharing the best of Chinese and American culture, food, and personal enrichment with multiple generations of audiences. His grand vision is shaped by more than 3,500 culinary and travel TV shows, 32 cookbooks, and several restaurants in North America and Asia, which include M.Y. China, a highly rated culinary hot spot in San Francisco.