Zucchini Pistachio Gratin
Yield
4-6 servings
Ingredients
4 medium-sized zucchini
1/3 cup + 3 tablespoons olive oil
1.3 cup finely diced onion
2 garlic cloves, minced
Salt and freshly ground pepper to taste
½ cup mild goat cheese
½ cup roasted, unsalted pistachio kernels, coarsely chopped
½ cup grated sheep milk's cheese
4 large basil leaves, thinlysliced
Instructions
Preheat oven to 400 degrees F.
To prepare zucchini shells, cut off and discard the ends of each zucchini. Slice it in half, lengthwise. Using a spoon, gently scrape the flesh out onto a chopping board. Coarsely chop the flesh and set aside.
Pour 1/3 cup olive oil in the bottom of a large, oven-proof gratin dish and place the zucchini shells in the dish; sprinkle with salt to taste.
To prepare the filling, warm 3 tablespoons olive oil in a saute pan over medium heat. Add the onion and garlic and saute for 3 -4 minutes, stirring occasionally, until they are soft and translucent. Add the zucchini flesh and continue to saute until zucchini is soft, about 3 – 4 minutes. transfer ingredients to a shallow bowl and set aside to cool.
When cool, gently stir the goat cheese, basil and pistachio kernels into the zucchini mixture and season with salt and pepper to taste. Spoon the filling in equal amounts into each zucchini shell. Sprinkle the sheep's milk cheese evenly across the top of all the zucchini. Place in a preheated oven for 25 – 30 minutes or until cheese isgolden brown and bubbling.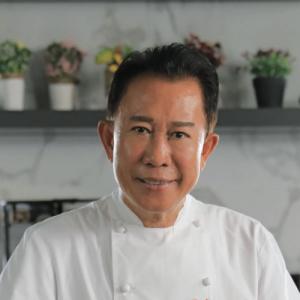 Spanning over four decades, celebrity Chef Martin Yan has traveled around the world, sharing the best of Chinese and American culture, food, and personal enrichment with multiple generations of audiences. His grand vision is shaped by more than 3,500 culinary and travel TV shows, 32 cookbooks, and several restaurants in North America and Asia, which include M.Y. China, a highly rated culinary hot spot in San Francisco.