Pistachio Berry Goat Cheese Salad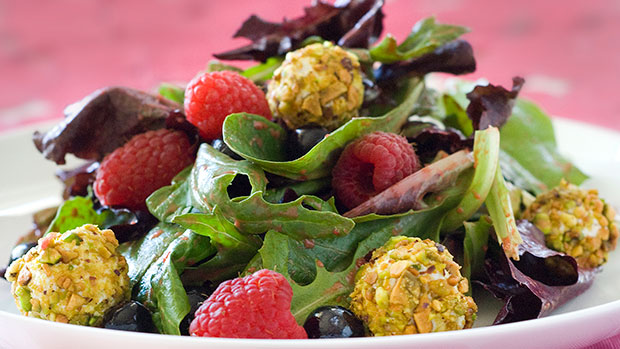 Yield
6 Servings
Ingredients
¼ cup Roasted, salted pistachios, chopped
6 ounces Goat cheese
½ cup Sliced strawberries
1 tablespoon Balsamic vinegar
1 - 2 teaspoons Honey
3 tablespoons Olive oil
Salt
Pepper
8 ounces Prewashed baby lettuce salad greens or spring mix
1 pint Raspberries
1 cup Blueberries
Instructions
Place the chopped pistachios on a plate. Divide the goat cheese into 16 equal pieces (about 1 teaspoon each) and roll into balls. Roll the cheese balls in the pistachios. Can be made up to 2 days ahead. Cover with plastic wrap and refrigerate.
Put the strawberries in a blender with the vinegar, 1 teaspoon honey, olive oil and a pinch of both salt and pepper. Blend until smooth and creamy. Taste and add more honey, salt and/or pepper if desired. Can be made a day ahead. Store in a small jar or covered container and give a good shake before using.
Put the salad greens in a large mixing bowl and toss with the dressing. Add the raspberries and blueberries and gently toss. Divide the salad among 6 salad plates and top each with 4 pistachio goat cheese balls.
 
Nutritional Facts (Amount per Serving):
Calories 220, Total Fat 16g, Saturated Fat 5g, Monounsaturated Fat 8g, Polyunsaturated Fat 1.6g, Cholesterol 15mg, Sodium 140mg, Potassium 162mg, Magnesium 23mg, Total Carbohydrate 14g, Dietary Fiber 5g, Sugars 8g, Protein 7g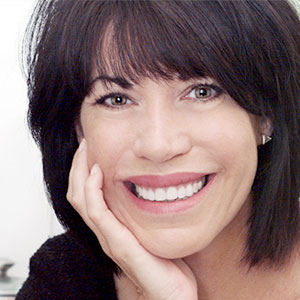 Carol Kicinski founded Simply Gluten Free as a gluten-free recipe and lifestyle website and blog.