Grilled Chicken with Pistachio-Green Olive Tapenade, Tortillas & Garlic Cream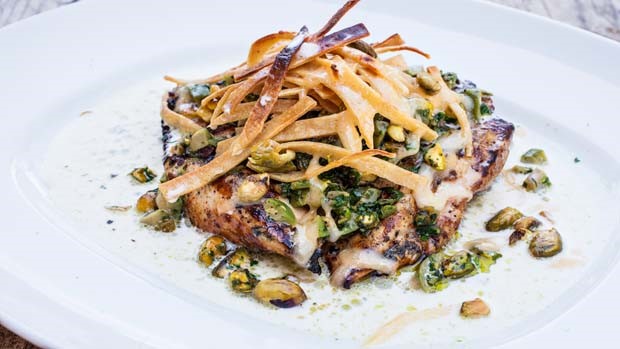 Ingredients
6 Chicken Breast, boneless and skinless
3 tablespoons BBQ spice
Salt and Pepper, to taste
¼ pound Melted butter
2 cups Mexican Melting Cheese, grated
2 tablespoons Pistachios, toasted and lightly crushed
¼ cup Cotija, grated
1 cup Pico de Gallo
For the Garlic Cream
1 tablespoon Butter
8 Garlic Cloves, peeled and minced
¼ cup Dry White Wine
2 pints Heavy Cream
Salt, to taste
For the Pistachio-Green Olive Tapenade
¾ cup Pistachios, shelled and toasted
¾ cup Cerignola or Castlevetrano Olives, pitted
3 tablespoons Capers, rinsed
1 Serrano chile, remove stem
2 Garlic clove, mashed
1 tablespoon Fresh Oregano Leaves, chopped
2 tablespoons Parsley Leaves, chopped
Extra Virgin Olive Oil
1 Lemon, zested
Salt, to taste
Instructions
Preheat the grill or broiler until very hot. Season 6 boneless skinless chicken breasts, brush or mop with melted butter or oil and season with BBQ spice, salt, and pepper. Grill the chicken breasts on the grill or in the broiler, 2 to 3 minutes. Then turn and cook the other side. Keep turning the chicken every minute or 2 to avoid blackening or sticking; baste with butter on each turn. Total cooking time is 10 to 12 minutes for small breasts and 18 to 20 minutes for larger breasts.
For the Garlic Cream:
In a small sauce pot melt butter over medium high heat. Add garlic and sauté until fragrant, no color. Add white wine and reduce until sec. Add heavy cream and bring to a slow simmer for five minutes. Strain thru fine mesh strainer.
For the Pistachio-Green Olive Tapenade:
In a food processor combine the pistachios, olives, capers, garlic, herbs and puree. While the machine is running, slowly drizzle in olive oil until the mixture becomes a paste. Add the zest and pulse 1 more time, drizzling in more oil if necessary. Reserve until ready to use.
To serve, top the grilled chicken breast with a liberal portion of the tapenade. Top with fried tortilla strips and Mexican melting cheese. Place under broiler until the cheese is melted. Place on center of a plate and pour garlic cream over the top. Garnish with toasted pistachios, cotija and pico de gallo.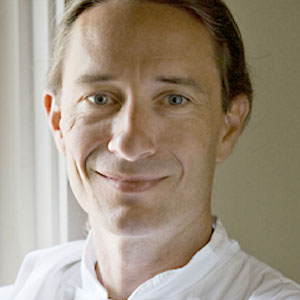 A published author on Southwestern cuisine, Ben regularly appeared on In the Kitchen with Robert Del Grande (FOX network).